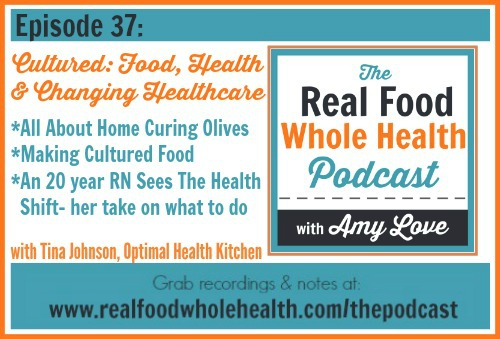 In this episode, learn about home curing olives and making cultured and fermented food. Also, a 20- year registered nurse shares the dramatic health shift she has witnessed and we talk about steps you can take to improve your health and stay on budget.
[player]
From this episode:
Website: Optimal Health Kitchen on Facebook
Article: A Guide to Healthy Cultured and Fermented Foods
Recipe: How to Make Kombucha
Recipe: How to Make Sauerkraut
Website: UC Davis Home Cured Olives Info
Product: Himalayan Pink Salt
Product: Fido Jars (for fermenting)
Product: Pickl-It Jar Kit (for airlock fermenting in Mason jars)
Recipe: Moroccon Preserved Lemons
Recipe: How To Make Kimchi
Podcast: RFWH 23: Natural Remedies at Home, Transitioning from Vegan to Real Food Omnivore, Stocking Your Natural Medicine Cabinet and Recovering From Toxic Mold with Guest, Emily Sunwell-Vidaurri
Recipe: Elderberry syrup
Podcast: RFWH31: All About Kombucha- That Why's, What's and How's of Kombucha and How To Make Your Own, Caring For Your Gut Health and Bacteria Buddies with Guest, Hannah Crum
Resource: Kombucha Kamp
Recipe: VIDEO: Making Water Kefir
Recipe: Jenny's Home Cured Olives
Website: Aveda
Recipe: How To Make Homemade Bone Broth  and How To Make Bone Broth In An Instant Pot
Product: Oscillococcinum homeopathic
Podcast: RFWH35: A Career in Nutrition and Natural Health, A Personal Health Journey with Thyroid and Autoimmune Issues, Being Your Own Health Advocate, Cutting Out Information Overload, Valuing Progress Over Perfection with Guest, Jessica Bischof
Resource: Nutritional Therapy Association (NTA)
Podcast: RFWH 22: Travel Tuesdays, Portland Oregon- The Food Scene, Waterfalls, Hood River and Oregon Coast from Astoria to Cannon Beach
Article: The Essential Elements Series: Real Food Diet
Article: A Guide to Choosing Healthy Fats
Article: The Diet-Heart Myth: Cholesterol and Saturated Fat Are Not the Enemy
Article: A Guide to Choosing Healthy Meats
Resource: Local Harvest
Resource: Eat Wild
Resource: US Wellness Meats – order grassfed beef, pastured chicken, and more online
Article: A Guide to Choosing Healthy Dairy Products
Article:A Guide to Choosing Healthy Eggs
Article: The practice of spraying glyphosate on wheat pre-harvest
Recipe: Homemade Ketchup
Product: Organic Ketchup
Article: A Guide to Choosing Healthy Grains
Book: The Paleo Approach: Reverse Autoimmune Disease and Heal Your Body
Product: Epsom salts
Book: Square Foot Gardening
Resource: Permaculture website
Book: Nourishing Traditions by Sally Fallon
Resource: Dirty Dozen and Clean Fifteen Guide from EWG
Product: Instant Pot– we BOTH love ours!!
Resource: How to find real (raw) milk
Article: Coffee and gluten cross reactivity
Article: Why Vegetable Oils are Dangerous to Your Health
Article: In Search of 100% Olive Oil
Store: Costco
Store: Whole Foods
Store: Trader Joe's
Connect: Follow our #realfoodroadtrip on Instagram
Product: Berkey Water Filter
Resource: Find a Spring  to locate spring water all over the country
Article:Optimal Hydration- Are You Drinking Enough Water?
Product: Whole House Water Filter
Product: Unrefined Sea Salt- Celtic Sea Salt, Himalayan Pink Salt and Real Salt
Enter your email in the box below to join our community (it's FREE!) and you'll be the first to hear about new episodes, discounts, VIP access and more.
Don't forget to join the discussion on our Facebook page
Keep up with our food and travel photos on Instagram
Have a Question? Submit a question for us to answer on the podcast: click here
Check out our other podcast episodes: click here
Like this episode? Thanks! Please share it with your friends using the social media buttons at the top and bottom of the post, or directly from the "share" feature on the podcast player, above. You can also subscribe to the podcast on iTunes right from the player above, too. We'd also appreciate a (hopefully five star!) review on iTunes- it helps us spread the message about real food and natural health to more people!
Disclaimer: Please remember that all information contained in our podcast, posts, on our website and in any and all materials is for information purposes only and not a substitute for medical advice. This information has not evaluated by the FDA and is not intended to prevent, diagnose, treat or cure any condition. Our posts and website may contain affiliate links. If you purchase something by clicking on the link, we may receive a small commission from the retailer, at no cost to you whatsoever. This helps support our blogging activities and keeps us able to provide free content for you. Thanks for your support!