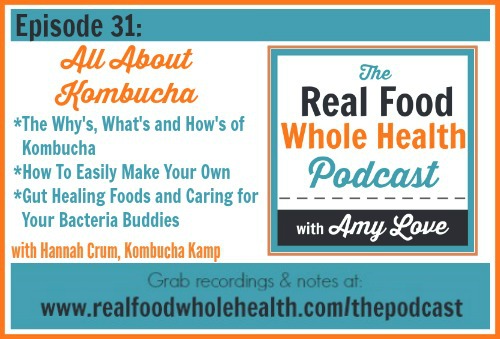 In this episode, learn all about kombucha, a cultured beverage full of probiotics that can easily help you get off sodas, balance your body and support healthy digestion, with guest, The Kombucha Mama, Hannah Crum, of Kombucha Kamp.
[player]
From this episode:
Website: Hannah's Website, Kombucha Kamp
Our #realfoodroadtrip photos!
Shower Filter
Berkey Water Filter– the BEST countertop, gravity filter (no electric/plumbing needed)
Whole House Filters and Other Water Filters
How to Make A Saltwater (Sole) Solution
Himalayan pink salt
Celtic sea salt
Redmond Real Salt
Adrenal Fatigue in the 21st century by Dr James Wilson
GTs kombucha– love that gingerade flavor!
Traditionally fermented pickles
The True Cause of Heartburn/GERD
Why Stomach Acid is GOOD For You by Dr. Jonathan Wright
Mark McAfee from Organic Pastures
How to Find Real (Raw) Milk
Nourishing Traditions by Sally Fallon
ShiftCon– an annual eco-wellness influencer conference
The Big Book of Kombucha– pre-order now!
Building a scoby hotel
How to Make Kombucha– video
Kombucha heater
Kombucha Brewers International
How to Make Water Kefir
How to Make Ginger Ale
Buddah's Brew Kombucha– pineapple supergreens is my favorite flavor!
Humm Kombucha  – the apple sass and coconut lime are so good!
Health-Ade Kombucha – love the pink lady apple and pomegranate flavors!
Starter cultures (Scobys)
How To Choose Healthy Fermented Food
Continuous brew kombucha
Enter your email in the box below to join our community (it's FREE!) and you'll be the first to hear about new episodes, discounts, VIP access and more.
Don't forget to join the discussion on our Facebook page
Keep up with our food and travel photos on Instagram
Have a Question? Submit a question for us to answer on the podcast: click here
Check out our other podcast episodes: click here
Like this episode? Thanks! Please share it with your friends using the social media buttons at the top and bottom of the post, or directly from the "share" feature on the podcast player, above. You can also subscribe to the podcast on iTunes right from the player above, too. We'd also appreciate a (hopefully five star!) review on iTunes- it helps us spread the message about real food and natural health to more people!
Disclaimer: Please remember that all information contained in our podcast, posts, on our website and in any and all materials is for information purposes only and not a substitute for medical advice. This information has not evaluated by the FDA and is not intended to prevent, diagnose, treat or cure any condition. Our posts and website may contain affiliate links. If you purchase something by clicking on the link, we may receive a small commission from the retailer, at no cost to you whatsoever. This helps support our blogging activities and keeps us able to provide free content for you. Thanks for your support!