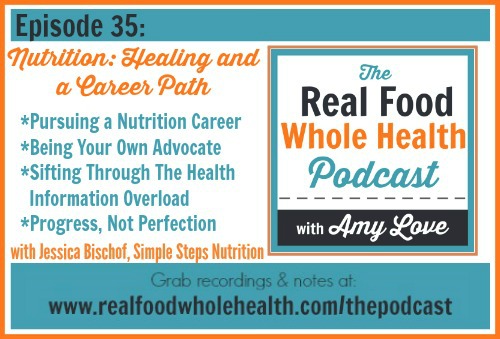 In this episode, we're talking about making a career from a passion for nutrition and natural health, the importance of being your own advocate when facing health challenges, developing a personal health paradigm to help cut through information overload, and the significance of progress over perfection on your healing journey with guest, Jessica Bischof.
[player]
From this episode:
Website: Jessica's website, Simple Steps Nutrition
Nutrition Education: Nutritional Therapy Association (NTA)
Resource: Anne Fischer Silva, NTP
Book: Thyroid Power
Book: Why Do I Still Have Thyroid Symptoms When My Lab Tests Are Normal?
Book: Ann Louise Gittleman, Fat Flush
Product: Herb- Feverfew
Article: The Essential Elements Series: Real Food Diet
Book: Adrenal Fatigue: The 21st Century Stress Syndrome
Book: Autoimmune: The Cause and The Cure
Website: Weston A Price Foundation
Resource: How to find real (raw) milk
Resource: Eat Wild
Resource: Local Harvest
Restaurant: Chipotle
Product: Instant Pot
Recipe: How To Make Swoon-Worthy Bone Broth in an Instant Pot
Connect: Follow our #realfoodroadtrip on Instagram
Resource: 20 Dishes: Meal Planning and Quick Prep Service
Podcast: RFWH25: Kitchen Ninja Tips and Tricks- Transitioning Kids to Real Food, Meal Planning, Batch Cooking, Save Time and Stress Less to Get Healthy Real Food on the Table FAST with Guest, Orleatha Smith
Product: Berkey Water Filter
Podcast: RFWH31: All About Kombucha- That Why's, What's and How's of Kombucha and How To Make Your Own, Caring For Your Gut Health and Bacteria Buddies with Guest, Hannah Crum
Article: How to Make Kombucha
Product: Stainless Steel Saute Pan
Product: Wide Mouth Mason Jars
Product: Single Burner/Hotplate
Product: Cappello's Grain Free Pasta
Book: The Makers Diet
Article: How to Soak and Dry Nuts and Seeds
Article: A Guide to Choosing Healthy Nuts and Seeds
Product: Excalibur dehydrator
Article: A Guide to Choosing Healthy Fats
Product: Nutiva Coconut Oil
Product: Kasandrino's Olive Oil
Product: Chosen Foods Avocado Oil
Store: Whole Foods
Store: Natural Grocers
Store: Trader Joe's
Store: Costco
Store:Sprouts Market
Recipe:Amy's Perfect Roast Chicken with Lemon Thyme Reduction
Enter your email in the box below to join our community (it's FREE!) and you'll be the first to hear about new episodes, discounts, VIP access and more.
Don't forget to join the discussion on our Facebook page
Keep up with our food and travel photos on Instagram
Have a Question? Submit a question for us to answer on the podcast: click here
Check out our other podcast episodes: click here
Like this episode? Thanks! Please share it with your friends using the social media buttons at the top and bottom of the post, or directly from the "share" feature on the podcast player, above. You can also subscribe to the podcast on iTunes right from the player above, too. We'd also appreciate a (hopefully five star!) review on iTunes- it helps us spread the message about real food and natural health to more people!
Disclaimer: Please remember that all information contained in our podcast, posts, on our website and in any and all materials is for information purposes only and not a substitute for medical advice. This information has not evaluated by the FDA and is not intended to prevent, diagnose, treat or cure any condition. Our posts and website may contain affiliate links. If you purchase something by clicking on the link, we may receive a small commission from the retailer, at no cost to you whatsoever. This helps support our blogging activities and keeps us able to provide free content for you. Thanks for your support!