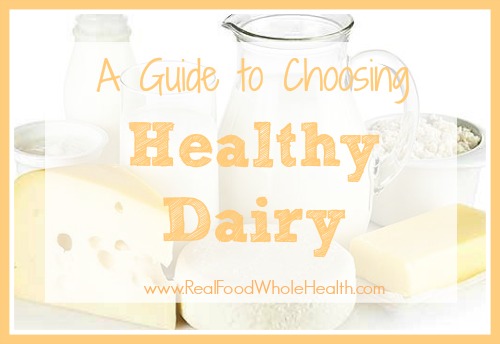 A Guide to Choosing Healthy Dairy Products
Raw or unpasteurized, unprocessed milk is something that nourished generations of our ancestors. Choose raw milk, raw cream, raw butter and raw cheese where available. Raw dairy offers many benefits over pasteurized dairy including enzymes, beneficial bacteria and vitamins/minerals not found naturally in pasteurized milk. Raw milk has the cream on the top of the milk, because it has not been homogenized, a process that damages the healthy fats in the milk.
Choose your raw dairy products from a locally run family dairy, and make a visit to the farm to ensure that cows are grass-fed, well-taken care of and not given hormones, antibiotics or steroids. Observe the milking process if possible, or ask questions to ensure that they are milked under clean conditions.
It is best to drink milk from heritage breed cows, like Jersey or Guernsey breeds, as their milk contains a higher percentage of healthy fat and a specific type of casein (milk protein), called A2 beta casein,  that is easier for most to digest. Newer breeds, like Holstein cows, primarily produce A1 beta casein, which is more difficult for many people to digest.
Raw milk is tolerable for even some people who can not tolerate pasteurized milk. Pasteurization destroys lactase, the enzyme that helps to digest lactose, creating problems in some people. Raw milk has lactase in place, and many lactose-intolerant people can consume raw milk. The casein (milk protein) is different in raw milk as well. Naturally, this protein is 3D in shape, and the body recognizes it easily. However, pasteurization flattens this protein to a 2D shape, and many peoples' bodies have problems digesting this damaged protein.
If you cannot find raw dairy, choose vat-pasteurized or low-temp pasteurized and non-homogenized milk from grass-fed, heritage breed cows.
Eat raw cheese. In the US, raw milk cheeses must be aged for at least 60 days prior to being allowed to be sold, but these cheeses are becoming increasingly available.
If you can't get raw dairy, use only cultured organic dairy (crème fraiche, sour cream, full-fat yogurt, kefir) and small amounts of organic cream. Avoid high temperature or ultra-high temperature (UHT) pasteurized dairy and all homogenized dairy.
Coconut milk and cream (unsweetened) are good substitutes for dairy, and better for you than nut/seed milks. You can make your own or buy it in BPA-free cans. The refrigerated cartons found in the store usually contain sweeteners and thickeners/gums.