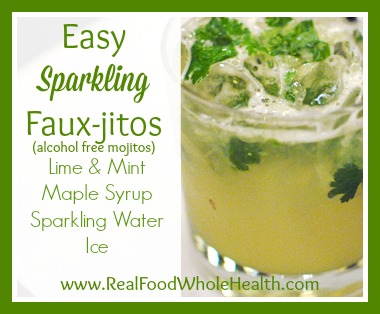 We're celebrating Cinco de Mayo with a twist….of lime.
And mint!
That's right, we're making cocktails to go with our favorite Mexican dishes.
Well, actually, we're making MOCKtails. "Faux-jitos" to be exact.
What in the world is a faux-jito? It's a mojito without alcohol!
Easy Sparkling Faux-jitos
by Amy Love, Real Food Whole Health
Per drink:
2 organic limes
Handful of organic mint leaves
1 TBL pure maple syrup
6-8 oz. sparkling mineral water
Ice
Cut your limes into wedges, about 4 per lime. Into a rocks glass, squeeze the lime juice and add your the juiced wedges and mint to the bottom of the glass. Bruise the mint and smash the wedges using a muddler or large or bar spoon. Add maple syrup and mineral water, taste and adjust ingredients to your liking. Top off with ice and enjoy!
Looking for some tasty, gluten-free and nutrient-dense dishes to make for your own little fiesta?
Caldo de Pollo soup recipe– a mexican chicken soup bursting with flavor and nutrition
Mole sauce recipe– (pronounced moh-lay) an amazing from-scratch recipe for that famous chocolate-chile sauce
Traditional Chicken Mole Recipe– tasty pastured chicken takes a dip in our mole sauce
Chicken Mole Enchiladas Recipe– put the chicken and mole to good use in a classic dish that everyone will love
How to Heat Corn Tortillas– simple steps to do it right, with NO microwave involved!
How to Make Classic Guacamole– a simple, fresh recipe that anyone can make
Breakfast Taco Recipe– Mexican style- start your day with a little south-of-the-border deliciousness