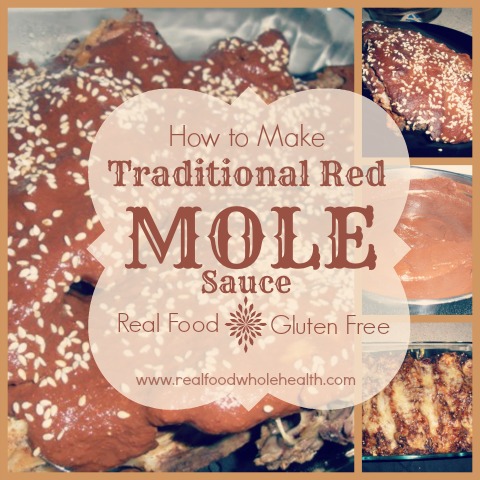 Rich, dark, complex, mildly spicy and faintly sweet with a touch of pleasant bitterness, mole sauce is the perfect accompaniment to chicken, pork or in enchiladas. Mole (pronounced moh-lay) sauce is a delicious gift from Mexico that has a rich and historic past. Several Mexican states claim to be the originators of the sauce and there is debate over the exact ingredients. In Mexico, many families have their very own mole recipe, one that is handed down from generation to generation, rarely changing. A legacy steeped in tradition and culture.
Though I don't have a family mole recipe,  being a Texas girl, I was always able to enjoy a good mole at many of our excellent Mexican and "Tex-Mex" restaurants. It's probably one of my husband's favorite all-time dishes. Now that I've moved to New England, and been a bit homesick for some good Mexican food, I've decided to concoct my own.
This is the most common mole- a dark reddish brown sauce accented with sesame seed garnish. There are green moles as well, but this one is generally referred to as "red mole" and has the inclusion of chocolate, chilies and spices. Here's what I've come up with- we certainly enjoyed it and I hope you will too! (recipes for mole chicken and chicken mole enchiladas to follow)
Amy's Mole Sauce
by Amy Love, Real Food Whole Health
makes about 7 cups
Ingredients:
½ cup sesame seeds
1 TBL organic butter (raw from grass fed cows preferred)
1 large organic onion, diced
4-5 cloves organic garlic, smashed
2-4 chipotle peppers (canned in adobo or jarred roasted) 2 will be mild, 3 medium, 4 hot
28oz crushed tomatoes (BPA free can or in glass) or 6 fresh tomatoes, roasted & chopped
2 TBL organic, raw almond butter from soaked/dried almonds (or peanut butter)
1 small box (about 2 oz) organic, unsulphured raisins
2 ½ heaping TBL organic chili powder
2 TBL organic ground cumin
5 heaping TBL organic, unsweetened cocoa powder
½ tsp organic ground cloves
1 tsp organic ground cinnamon
1 tsp organic garlic powder
4 tsp unrefined sea salt
½ tsp freshly ground pepper
½ tsp sucanat (or other natural sugar)
2 cups filtered water or homemade chicken stock/bone broth
1 small square dark chocolate (or about 1 TBL dark chocolate chips)
Directions:
In small, dry sauté pan, over medium low heat, toast sesame seeds, stirring constantly, until golden, about 3-5 minutes. Remove from pan and set aside.
In large sauté pan (with tall sides) or stock pot, over medium heat, melt butter and sauté onions and garlic until fragrant. Add chipotle peppers, tomatoes and almond butter. Stir to combine. Add raisins and spices (chili powder, cumin, cocoa powder, cloves, cinnamon, garlic powder, salt, pepper and sucanat). Cook about 5 minutes. Transfer to blender. Add half of toasted sesame seeds (reserving half for garnish of dish) and the water or stock/broth. Blend all until very smooth and then return to pan over medium heat. Bring to a bubble and then reduce heat to simmer, stirring almost constantly about 20-25 minutes or until reduced, darkened and thickened to a cream sauce-like consistency. If it gets too thick, thin out a bit with water or stock. Stir in chocolate and stir until melted. Ta-da!
Use for mole chicken or chicken mole enchiladas or top roasted pork loin with mole. It's even better the next day! Also you can freeze the sauce for later use. Defrost and then reheat slowly in sauté pan over low heat before using in a recipe. If not using the garnishing sesame seeds right away, store them in the fridge to maintain freshness.
*Note for our gluten-free friends, from a reader- double check that any canned chiles (chipotles) you use are in fact GLUTEN FREE. Some brands apparently contain wheat flour in the adobo. Thanks to Erin for the heads-up on this!