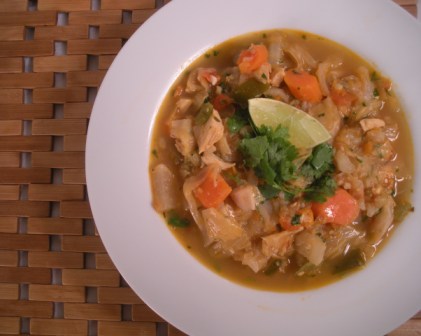 Just like American chicken soup, Caldo de Pollo is a traditional family recipe (and thus has many variations), is a treasured comfort food and is definitely a nutrient-dense meal with healing properties. Unlike American chicken soup, however, this soup is a little spicy and packed with delicious vegetables.  This is not tortilla soup, but a true chicken soup. The smell in the house while this is cooking is simply intoxicating!
A hearty meal served on its own, buttered properly prepared (like sprouted) corn tortillas would be an acceptable side dish, along with guacamole. Because this is a family recipe, there are many variations- some people include corn in their soup, and sometimes other veggies are used in addition to or in place of the ones I typically use.  We almost never add the potatoes or rice, but I've listed them in case you'd like to include them. I've made it this way for years now and we love it, but feel free to experiment!
Caldo de Pollo (Mexican Chicken Soup)
by Amy Love, Real Food Whole Health
1- 1 1/2 lbs. pastured chicken breast or thighs cubed
1 small chopped organic onion
1 medium organic cabbage, outer leaves and core discarded, chopped
3-4 small organic red potatoes, peeled and cubed (optional)
3-4 organic carrots, peeled and sliced
2 organic zucchini, diced
4-5 organic garlic cloves, peeled, smashed, minced
1 (14 1/2 oz.) can organic stewed tomatoes, undrained (BPA free can or in glass) or fresh tomatoes, diced
32 oz homemade or this chicken bone broth
Unrefined sea salt and freshly ground pepper to taste
1 TBL plus organic cumin
1 TBL plus organic chili powder
½ TBL smoked paprika (must be smoked)
Crushed red pepper, to taste
White pepper, to taste
Garlic powder, to taste
1 cup organic white basmati rice, cooked (optional)
1 tbsp. fresh organic cilantro, chopped, stems removed
Lime wedges, avocado slices, to garnish
In a ramekin or small dish, make your spice blend. Start with about ½ – 1 TBL salt and add garlic powder (not garlic salt) and black, red and white peppers to your liking. Add cumin, chili powder and paprika. (adjust to your liking)
Season cubed chicken breast with a pinch or two of your seasoning blend- as desired.
In a bit of butter, pastured lard or coconut oil, brown and cook chicken over medium heat in a large Dutch oven or stockpot until chicken is tender. Add onions and sauté lightly. Add a touch more fat if needed. (If you think we're crazy for using butter, lard or coconut oil READ THIS and THIS and maybe watch this video)
Add cabbage, potatoes (if using), zucchini, carrots, garlic and tomatoes and the remaining seasoning blend from the ramekin. Stir to coat all evenly and cover to sweat the veggies for 10-15 minutes. Stir occasionally to prevent sticking/burning and add a touch of chicken broth if liquid from veggies is not sufficient. You don't want to add too much or the veggies will boil and not sweat their flavors.
After 10-15 minutes, the veggies will have reduced by about half the volume. Add the remaining chicken broth, stir, add rice (if using), stir and cover and simmer for 30-45 minutes.
Add cilantro during the last couple minutes of cooking. Garnish with a lime wedge and serve with avocado slices if desired.
*This can also be made with leftover roasted chicken. Just add chicken after sauteeing/sweating veggies.