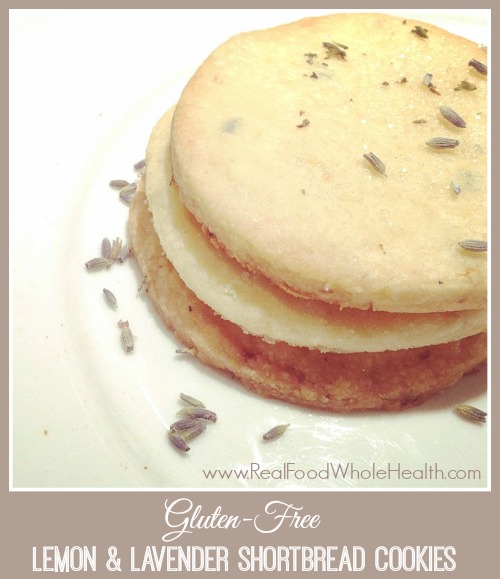 These little beauties are light, delicate and just slightly sweet. The combination of lemon and lavender is sublime!
Gluten Free Lemon Lavender Shortbread Cookies
by Amy Love, Real Food Whole Health
Ingredients:
1 stick (8 TBL, ½ cup) organic grassfed butter, at room temperature
¼ cup organic powdered sugar
Zest (grated peel) of 1 organic lemon (about 2 tsp)
About 1 tsp lavender flowers
½ tsp pure vanilla extract
1 cup gluten free flour blend
1/8-1/4 tsp of coarse Celtic sea salt
Optional: 1-2 tsp organic cane sugar, for topping
Directions:
Cream butter and powdered sugar in the bowl of an electric mixer.
Add lemon peel, lavender and vanilla and mix.
Add gluten free flour blend and salt and mix until just blended, scraping down the sides of the bowl if necessary. If it's still somewhat crumbly, don't worry, it will come together when you shape it.
Transfer dough to large piece of plastic wrap or parchment paper and press into a disk shape. Cover with another piece of plastic wrap or parchment paper and roll out to about 1/3 inch thickness. Place wrapped dough on a plate or baking sheet and chill until firmer- about 20-30 minutes.
Preheat oven to 350°F.
Remove dough from fridge and take off top sheet of plastic wrap (or parchment). Using a 2 ½" diameter cookie cutter (or top of a round drinking glass), cut out cookies and place on a parchment-lined baking sheet. Allow an inch or so between cookies.
Gather dough scraps and reroll (covered with plastic or parchment) to 1/3 inch thickness and cut out additional cookies.
You can sprinkle a bit of organic cane sugar on top of the cookies if you wish. Chill about 10 minutes before baking.
Bake until light brown on bottom and just barely golden around edges, about 12- 15 minutes. The cookies will be VERY crumbly and delicate- allow to cool completely before enjoying (if you can!)