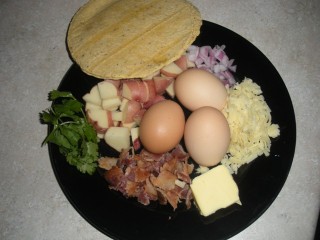 Breakfast Tacos- Mexican Style
by Amy Love, Real Food Whole Health
Serves 2
Ingredients:
1 TBL organic butter (raw from grassfed cows preferred)
1 TBL high-quality coconut oil or lard (non-hydrogenated from sustainably raised pigs)
1 TBL organic red onion, diced
3 very small red potatoes, diced small
3 pastured eggs
1 TBL organic milk or cream (raw from grassfed cows, preferred)
Unrefined sea salt, freshly ground black pepper and organic garlic powder
Optional dash of organic cumin and/or organic chili powder
2oz (or 2 patties) uncured (nitrate-free) sausage or chorizo (from sustainably raised pigs) cooked, crumbled
¼ cup grated raw cheddar cheese
4 organic (non-GMO) corn tortillas (sprouted preferred)
Directions:
In large sauté pan, melt butter and coconut oil. Add onions and cook until soft. Add potatoes. Season with salt, pepper and garlic powder and cook until soft and golden brown. Top with crumbled sausage or chorizo, stir to combine.
In a small bowl, combine cracked eggs and milk (or cream), season with salt and pepper and beat well. Add to sauté pan over potatoes and bacon, and cook until scrambled. Remove from heat and sprinkle on cheese. Scoop into warmed corn tortillas and serve with cilantro, salsa and avocado slices if desired.
Notes:
Can use uncured (nitrate-free) bacon in place of sausage or chorizo
Dairy free? Omit milk/cream and cheese. Use coconut oil or lard in place of butter.