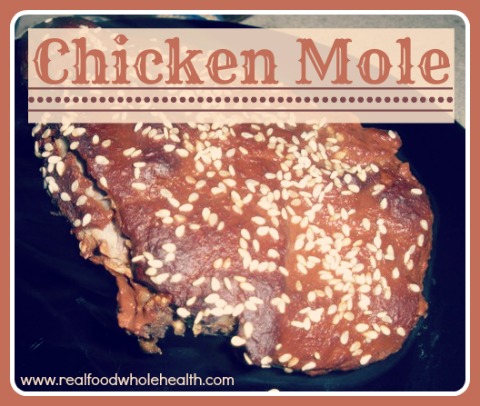 Mole Chicken
by Amy Love, Real Food Whole Health
Serves 4
Ingredients:
4 pastured chicken breasts, boneless and skinless or 8 pastured chicken thighs, boneless, skinless and butterflied
Unrefined sea salt, freshly ground pepper
Organic garlic powder, chili powder and cumin, to taste
2 TBL organic butter or high-quality lard (non hydrogenated from pastured pigs)
2 cups prepared Mole Sauce
Toasted sesame seeds for garnish (reserved from making mole sauce)

Directions:
Preheat oven to 350.
Season both sides of chicken with salt, pepper and spices.
In large sauté pan (have lid available), melt butter or lard over medium heat.
Add chicken and brown both sides, about 3-4 minutes per side. Put lid on pan and cook chicken until cooked through, about 10 minutes. Keep an eye on the pan and add a bit of stock or water to keep the pan from going dry.
When chicken is cooked through, remove chicken to a glass baking dish.
Warm prepared mole sauce and spoon about ½ cup of sauce over each chicken breast or ¼ cup of each thigh.
Sprinkle liberally with toasted sesame seeds and bake for about 5-10 minutes to set sauce and seeds.
Serve immediately.