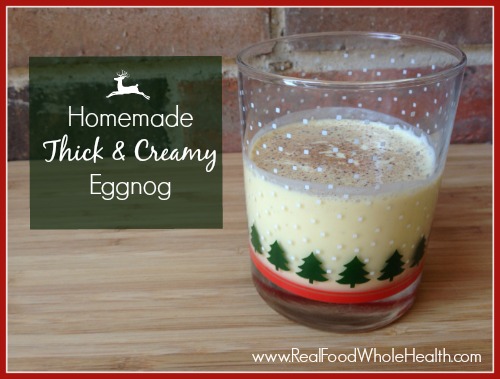 Yadda yadda – here's a charming egg nog story. I could bore you with the details, but I don't want to delay you from making this recipe right NOW. It blows any store-bought eggnog completely away.
And if cooked eggnog isn't your thing, check out this raw eggnog recipe full of nutrient-dense goodness. If you are dairy-free, you might enjoy this coconut milk eggnog made with real food ingredients.
Now on to the Thick and Creamy Eggnog you are here for!
Homemade Eggnog- Thick and Creamy
by Amy Love, Real Food Whole Health
4 cups organic, grassfed milk
4 cups organic, grassfed cream
8 organic egg yolks
1 cup pure maple syrup
2 ½ TBL real vanilla extract
Bourbon or rum, to taste (optional)
Freshly ground nutmeg
Combine milk and cream in a large saucepan.
Heat the milk and cream over medium heat until just before simmering, stirring often.
Beat egg yolks in separate bowl.
Slowly add 2 cups hot milk/cream to yolks, whisking constantly.
Add egg/milk mixture back to the remaining milk and cream and cook over medium heat, whisking or stirring until thickened, about 5 minutes.
Remove from heat and add the maple syrup, vanilla, any bourbon or rum you are using and a bit of nutmeg.
Stir well and chill eggnog- it will thicken even more upon chilling.
Serve with an extra dash or two of nutmeg.