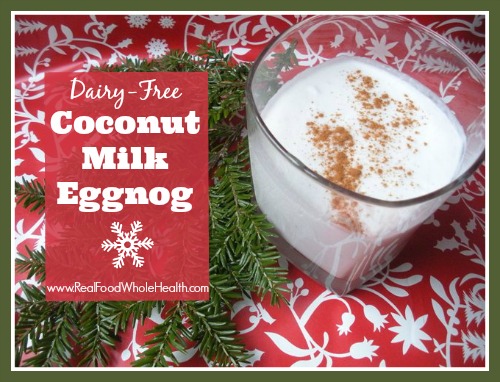 Eggnog is a nutrient-dense superfood that need not be relegated to holiday times only. It's an ideal breakfast, snack or even a little sweet treat that's not too sweet. Typically, I make mine with raw milk and cream, but this coconut milk version offers amazing taste and nutrition and it's a dairy free option too!
This recipe arose out of necessity during a recent workshop. Due to bad weather and time constraints, we had to make lunch with what foods we had with us, and since it was the last day, it wasn't much. However, when you eat real, nutrient-dense foods, it doesn't take too much to satisfy and keep you energetic for hours. We cobbled together bits of soups, salads, bits of grass-fed meats and avocado halves. Slices of raw cheese, bits of cultured veggies. It was really quite the buffet.
I noticed a lonely can of coconut milk in the corner and inspiration struck. We could just open it up and drink it. Coconut milk is certainly tasty and a little would go a long way. But I wondered, how could we make coconut milk, a very nutrient-dense food, even more delicious and power packed? Well throw in some raw pastured egg yolks and a drizzle of raw honey, of course!
This eggnog took little more than a mason jar and a hand can-opener, but making it at home would allow the use of a blender, a couple of tasty additions and maybe even your very own homemade raw coconut milk.
Coconut Milk Eggnog
by Amy Love, Real Food Whole Health

13.5 oz fresh or canned organic coconut milk (if canned, I prefer Native Forest or Natural Value brands)
1 tsp raw honey (or real Maple Syrup)
2-3 raw egg yolks from pasture-raised hens
Optional:
1/2 tsp organic vanilla extract
dash nutmeg
In a quart-size Mason jar or in a blender, combine all ingredients, including any optional additions. Stir well with a long spoon and then shake or blend until smooth and serve. Serving size is around 1/4 – 1/3 cup. Garnish with nutmeg if desired.