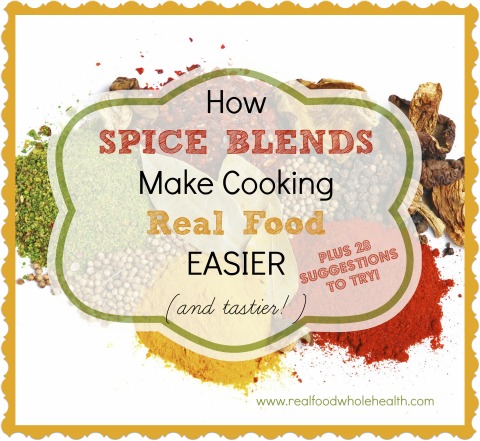 In my opinion, the mark of a good cook is knowing how to use salt and spices appropriately. It doesn't matter if you are making a simple dish or a fancy one, it's not going to be good unless the salt and spice is just right.
My spice cabinet is probably the most important area in my kitchen. I take great care to source high quality herbs and spices and store them correctly- out of direct light, heat and steam.
While I have my standard, go-to spices, I do try to experiment with different, unusual and exotic spices to add variety, nutrition and fun to our dinner table as often as possible. But I have a secret weapon….
SPICE BLENDS!
While I enjoy experimenting and dreaming up new spice blends of my own, sometimes I don't have the time to do so, or the money required to buy all the different components of a blend.
Instead, I rely on pre-made spice blends, especially for ethnic or exotic dishes. Chili powders, curry blends, cajun seasoning, seafood seasoning, herbal blends, and Asian, African and Middle Eastern spice blends immediately come to mind.
Now, there are LOTS of inferior commercial spice blends on the market-those that contain additives, fillers or binders, preservatives, GMOs,  excipients, MSG and artificial flavors and colors. These are the typical ones you'd find lining most grocery store shelves.
No thanks!
Luckily, there are several companies that stick to high-quality formulations and make spicing up your real food cooking very, very easy!
What to look for in quality spice blends:
Organic or wild-crafted herbs and spices, whenever appropriate
Non-irradiated spices
No additives, preservatives, artificial ingredients or MSG
No GMO (genetically modified) ingredients
If salt is used, that it's real salt (unrefined sea salt)
No allergens that you avoid- soy, wheat/gluten, etc.
Real, whole ingredients and nothing else!
It can take a bit of detective work to find good brands, but once you find a line you like, it's easy to buy within that line time and time again.
To make it clear, I am not being paid to endorse any of these companies- and there aren't any affiliate links in this post. I'm simply sharing what I have found that works, and what might be a great resource for you to help provide delicious real food for your family as easily as possible.
Here are some recommendations from my own spice cabinet:
Cajun Spice Blend by Morton and Bassett (jambalaya and gumbo)
All Purpose Seasoning from Simply Organic (this is my go-to for chicken soup)
Pumpkin Pie Spice by Epicurean Organics (Mountain Rose Herbs)
Poultry Seasoning by Simply Organic (excellent in stuffing!)
Herbes de Provence by Epicurean Organics (Mountain Rose Herbs) and another by Teeny Tiny Spice Co. (fabulous with rabbit or lamb)
Curry Powder by Simply Organic, Curry Blend by Mountain Rose Herbs and British Curry by Teeny Tiny Spice Co.
Garam Masala by Frontier and another by Teeny Tiny Spice Co (my FAVORITE!)
5-Spice Powder by Frontier (try this on nuts, in stir-fries and to make ice cream – seriously!)

Hatch Green Chile Salt (absolutely amazing! try on asparagus!),
Citrus Pepper,
Honey Chipotle (so unique- great ribs and spiced nuts!) and
Fajita Seasoning– all by Alamo City Pepper Products (made with Real Salt!)

Natural Season Salt (adore this on homemade grain free chicken fingers, on potatoes and in green beans!),
Onion Salt, (must have for homemade ranch dressing, along with dill, chives and garlic)
Garlic Salt
all by Redmond Trading Company

Jamaican Jerk (close to the authentic jerk we had in Jamaica! Try this RECIPE),
Citrus Pepper (excellent on chicken!),
Montreal Seasoning (yummy on steaks and burgers!),
Perfection Spice Rub (great on slow roasted pork shoulder),
Szechuan Spice (great for beef and broccoli!),
Oaxacan Adobo (excellent tacos!),
Whoop Ass (great for spicy chili!),
Yucatecan Recado Rojo (love on chicken for taco salad),
Tolucan Chorizo Spice (a must for paella!)
ALL by Teeny Tiny Spice Co.
A run down of those brands again are:
Morton and Bassett, Simply Organic and Frontier– all available at Whole Foods and/or on Amazon.com
Alamo City Pepper Products– available online
Redmond Trading Company– available online
Epicurean Organics and Mountain Rose Herbs– available online
Teeny Tiny Spice Co– available online (my personal FAVORITE spice company!)
I have to mention Teeny Tiny Spice Co. again because I just love this company. It's a small, family owned business that is really doing it right.
All of my interactions with this company have been exceptional- good customer service, fast shipping and an exceptional product. All their spices are high-quality and they use Himalayan Pink Salt and Vermont Maple Sugar instead of the commercial salts and sugars.
Most of all, Teeny Tiny has the most innovative blends I've found- making ethnic dishes ridiculously easy. I love this aspect, because I can take any of my grassfed meats or wild caught seafood, organic vegetables and healthy fats, and suddenly turn them into something really special and unique without much effort or expense on my part. Win-win for sure.
What spice blends do you use most often?
Have you tried any of the ones I've mentioned?
What other companies would you recommend for real foodies?