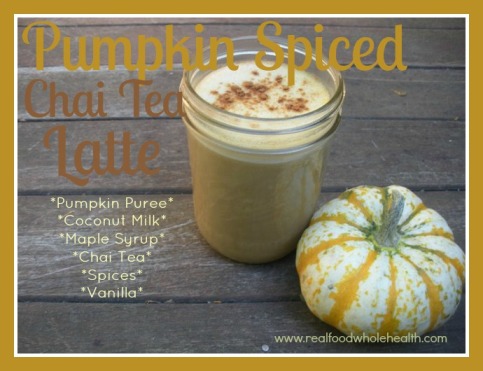 It's Autumn…and that means pumpkin-spiced everything! Everywhere you look, from Starbucks to gas stations, Pumpkin Spiced Lattes are the go-to Fall beverage.
But what is lurking in the cup? Across the board, these drinks have enormous amounts of sugar (or high fructose corn syrup), artificial flavors, colors, GMOs, preservatives and more. Ick!
It's easy to make a pumpkin spiced latte at home. Mama Natural made a great version with espresso, but what about those of us who don't want a coffee based version?
Enter the Pumpkin Spiced Chai Tea Latte!
Strong chai tea meets coconut milk (or raw milk), pumpkin puree, spices and maple syrup for a real food treat that is ALL FALL!
Pumpkin Spiced Chai Tea Latte
by Amy Love, Real Food Whole Health
4 oz water
2 tea bags organic chai tea
1 cup unsweetened coconut milk
1 ½ TBL maple syrup (or to taste)
¼ tsp vanilla extract
¼ cup pumpkin puree (canned or fresh)
¼ tsp pumpkin pie spice (or to taste)
Boil your water.
Pour into cup/mug and steep two tea bags in hot water for 5 or so minutes.
Remove tea bags.
Add remaining ingredients and blend using an immersion blender (or pour into a traditional blender).
Taste and adjust maple syrup and spices to your liking.
If it's not hot enough, simply pour into a pot and heat over medium heat until steaming.
Enjoy!
*Don't have chai tea? You can use black tea just as easily. Simply adjust the spices to your liking to compensate.