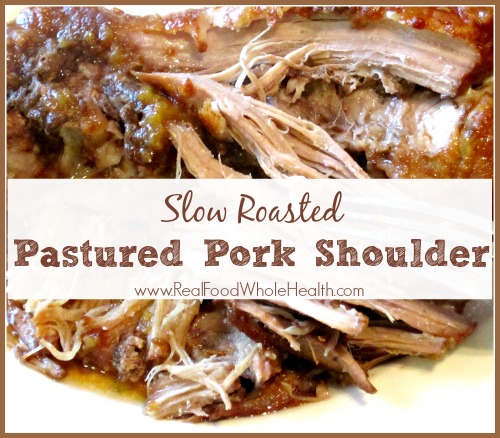 A nutritious and simple dish, pastured pork shoulder is slow roasted in the crock pot (slow cooker) with simple spices. Shred the finished pork and serve with our Homemade Orange-Bourbon-Molasses BBQ Sauce– even better on Grain Free Honey Butter Muffins.

Slow Roasted Pastured Pork Shoulder
by Amy Love, Real Food Whole Health

Ingredients:
1 pastured pork shoulder, about 4-6 lbs.
Unrefined sea salt
Freshly ground black or mixed peppercorns
Organic garlic powder
½ cup bone broth or water, warmed on stove top
Directions:
Season pork with salt, pepper and garlic powder on all sides. Place in slow cooker. Add warm broth (or water) and cook on high for 1 hr. Turn heat to low and cook approx 6-8 hours (depending upon size of shoulder and your slow cooker) until meat falls apart easily. Remove from juices and shred. Reserve juices for another use (or boil down for a reduction sauce. Removing some of the fat from the juices might be helpful in this case)
Mix with sauce of your choice- like our homemade orange-bourbon-molasses BBQ sauce and serve alongside homemade coleslaw (made with homemade mayo) or fresh veggies of your choice. Also excellent on Grain-Free Honey Butter Muffins.