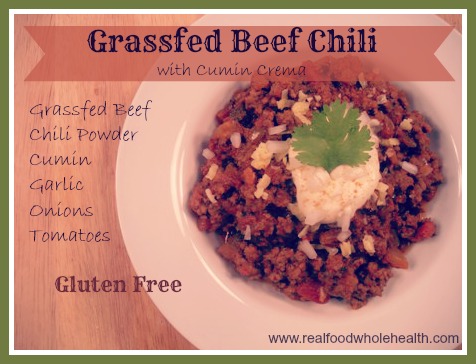 We love this hearty chili on cool, crisp Autumn evenings. It's easy to make and can be adjusted for your preference of spice and/or dietary needs.  See notes below recipe for optional dietary changes.
Grassfed Beef Chili
by Amy Love, Real Food Whole Health
1 TBL pastured butter (raw from grass fed cows preferred)
1 large organic onion, diced
2-3 cloves organic garlic, peeled, smashed and minced
2 lbs grass fed ground beef
3 TBL chili powder (non-irradiated, organic preferred)
1 tsp garlic powder (non-irradiated, organic preferred)
2 TBL cumin (non-irradiated, organic preferred)
1 tsp smoked paprika (non-irradiated, organic preferred)
1 TBL cocoa powder (organic, fair-trade, not processed with alkali preferred)
1 TBL unrefined sea salt
1 tsp freshly ground pepper (mixed peppercorns preferred)
1 TBL arrowroot powder (optional, for thickening)
2 cups filtered water or broth/stock
1 – 28 oz can of organic crushed tomatoes (BPA free can- like Eden Organic or in glass jar like Bionaturae)
In large sauté pan (with tall sides) or stock pot, melt butter and saute onion and garlic until softened, about 3 minutes. Add beef and brown.
Mix seasonings & cocoa powder in a small dish and sprinkle over meat as it cooks.
When browned, sprinkle arrowroot powder (if using) over meat and stir to mix well.
Add water/stock and tomatoes. Stir well.
Bring to a boil then reduce heat to simmer.
Simmer for about 30 minutes, stirring often.
Adjust salt and pepper to taste when finished, as spices will concentrate during cooking.
Serve hot with organic corn tortilla chips, grated raw cheddar cheese, diced red onions and top with cumin scented crema (recipe below) if desired.
Optional add-in: Beans- black, kidney or pinto (if using canned, use BPA free can brand like Eden Organic and rinse beans until they no longer foam) Add beans when you add tomatoes before simmering chili.
Notes:
Can omit beans and dairy.
Can use  coconut oil or lard in place of butter.
Can omit arrowroot powder- may simply be thinner consistency (or simmer longer).
Don't have arrowroot powder? Simply use non-GMO cornstarch or tapioca starch
Feel free to reduce spices to your liking, or increase heat with additions like jalapenos, crushed red pepper or cayenne.
Cumin- Scented Crema
by Amy Love, Real Food Whole Health
Crème fraiche or sour cream
Cumin powder, to taste
Unrefined sea salt, to taste
Chili powder, one dash, or to taste
Mix all ingredients together, adjusting spice as necessary. Dollop onto top of chili and enjoy!