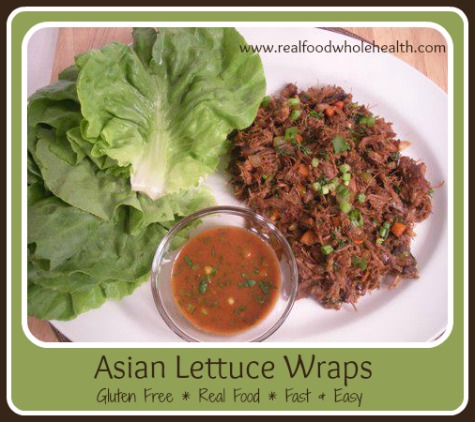 This is a quick and easy real food meal! It works as an appetizer or as a main course and it's delicious.
We used to love ordering lettuce wraps at the restaurant P.F. Chang's. This, of course, was before we switched to a real food lifestyle. I don't even want to think about what unpronounceable and unhealthy ingredients those restaurant wraps contained.  Luckily,  these lettuce wraps taste even better than the restaurant version (like most real food swaps!) and they are full of nourishing, nutrient-dense ingredients.
This recipe is very forgiving, and you can adjust anything to your taste. Want to add more veggies to the wraps? Go right ahead!  Want it spicier? Like more ginger? It's all adjustable. I started with some basic measurements to give you a starting place, but this is one of those recipes I just use as a guide and then add a shake more of this or a pinch or two of that as I go along. Have fun with it!
Asian Lettuce Wraps
by Amy Love, Real Food Whole Health
Ingredients:

For the wraps:
Pastured, organic lard or coconut oil
1-2 organic carrots, peeled & shredded or diced
1 large organic onion, diced
2-3 stalks organic celery, diced
2-3 cloves organic garlic, minced
2 tsp fresh minced ginger
About 2 cups cooked pasture-raised chicken or pork, shredded
1 bunch organic scallions (green onions), coarsely chopped
½ bunch fresh cilantro, coarsely chopped
2-4 Bibb/Boston Lettuce leaves (per person)
For the sauce:
2 TBL+ organic almond butter (or sunflower seed butter if nut free)
2 TBL+ organic, traditionally fermented tamari (gluten free soy sauce) (I like Eden or SanJ)
1 TBL+ traditionally fermented fish sauce (I like Red Boat)
2-3 tsp+ Sriracha (Asian pepper sauce) (I like SkyValley)
2-3 tsp toasted sesame seed oil
1 tsp fresh minced ginger
1 organic garlic clove, minced
Water, as needed to thin sauce for dipping
Directions:
In a large skillet, heat lard or coconut oil. Add your carrot, onion and celery and cook until tender and onion is translucent. Add garlic and ginger and cook until fragrant, another 2-3 minutes. Add chicken (or pork) and stir to combine and heat through.
While veggies are cooking, make your sauce in a small glass bowl. Simply mix almond butter (or sunflower seed butter) with tamari, fish sauce, sriracha, sesame oil, ginger and garlic. Taste and adjust amounts accordingly.
Add half of your sauce to the chicken/veggie mixture and stir well. Add cilantro and scallions (green onions) to the chicken/veggie mixture. Taste and adjust seasonings accordingly, adding more sauce, tamari or Sriracha as desired.
Thin remaining sauce with water (1/2 tsp to start, and add SLOWLY from there- it doesn't take much) to serve alongside your wraps. Serve chicken/veggie mix alongside lettuce leaves so each person can build their own wrap and top with thinned sauce if desired. Crème fraiche (mixed with a drop of srircha and tamari) also make a delicious topping.
Notes:
Five Spice Powder is also a delicious addition to the chicken/veggie mix. I usually add a couple shakes, but it's totally optional!