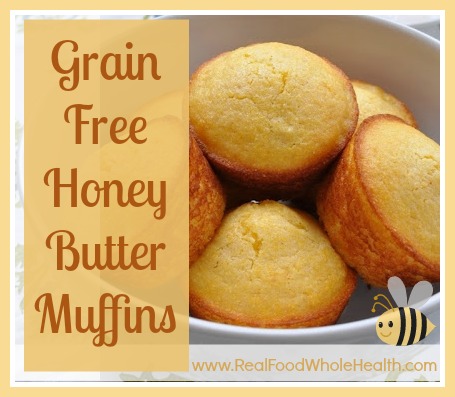 A great snack, breakfast, for use as sandwich bread (killer with BBQ pork!) or alongside your main course, these muffins are easy, delicious and grain (and gluten) free!
Grain-Free Honeyed Butter Muffins
by Amy Love, Real Food Whole Health

Ingredients:
For the muffins:
6 pastured eggs
4 TBL organic butter from grassfed cows, melted
½ cup raw milk, organic from grassfed cows
4 TBL good quality honey
½ tsp unrefined sea salt
½ cup fine grade coconut flour ½ tsp aluminum-free baking powder
For the honey butter:
2-4 TBL organic butter from grassfed cows, at room temperature
½ TBL good quality honey (more or less to taste)
Pinch of unrefined sea salt, if desired (may omit if using salted butter)
Directions:
Preheat oven to 400 F.
In a medium glass bowl, whisk together eggs, butter, milk and honey. In a separate bowl, combine sea salt, coconut flour and baking powder. Add the dry mixture to the wet ingredients a little at a time.  Whisk until the batter is very smooth with no lumps.  Pour batter into parchment lined muffin tins and bake about 10-15 minutes or until set and slightly browned on top.
Combine ingredients for the honey butter and brush on muffins when they come out of the oven.
Makes about 12 muffins.
Excellent with Slow Roasted Pork Shoulder with Orange-Bourbon-Molasses BBQ Sauce.