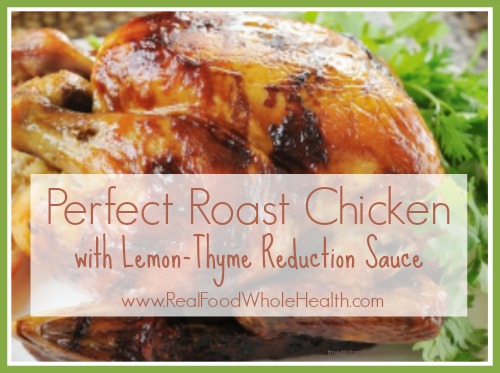 This is how we prepare our roasted chicken every Friday night. It's so delicious and we eat the leg/thigh for dinner that night and then over the weekend have breast meat for soups (like Chicken with Wild Rice, Caldo de Pollo or Avgolemono), homemade pecan chicken salad (made with lemony mayo), soft tacos, or whatever we want to make. Here's how we do it:
Amy's Perfect Roast Chicken
by Amy Love, Real Food Whole Health
Ingredients:
1 pasture-raised, organic chicken, about 3-4lbs.
2 TBL organic, grassfed butter
1 organic lemon, cut in half, seeds removed
2-3 heads of garlic, tops cut off cloves, keep connected
1-2 large organic onions, peeled and quartered
Bunch of fresh herbs- thyme, sage, rosemary, marjoram are all good
Unrefined sea salt and freshly ground black pepper
Other organic spices as desired (herb blend, poultry seasoning, garlic powder, etc)
Directions:
Preheat oven to 450 F.
Wash chicken and pat dry. Make sure to remove any giblets from inside the cavity. Tuck wings back under the chicken, and tie feet together, crossed.
In a large (not non-stick!*) roasting pan, fitted with a rack, place chicken on rack and scatter garlic, onion pieces, and any other veggies you'd like (carrots, potatoes) around the chicken. Rub chicken liberally with butter, coating all surfaces. Squeeze one lemon over chicken and place the 2 lemon halves inside the cavity with some herbs, and a piece of onion.
In a small ramekin, mix together spices- salt, pepper, poultry seasoning or all purpose seasoning (make sure it's organic and all-natural ingredients- I use Simply Organic ) or herbes de provence, garlic powder, etc- and then sprinkle it over the chicken and veggies, taking care not to make it too salty, but well-seasoned.  If you wish, sprinkle some thyme leaves (removed from stem) over the chicken.
Place in preheated oven and roast at 450 for about 15 minutes per pound of chicken. (Or until juices run clear and internal temp is 165)
Remove chicken from oven. Remove lemon, herbs and onion from inside cavity and discard. Do not eat these. Move chicken carefully to serving platter and let rest for about 15 minutes. Remove veggies (that were around the chicken)and scatter around chicken on the platter. Drain juices into a medium saute pan to make the reduction sauce. Save roasted garlic for the sauce.
Lemon-Thyme Reduction Sauce
by Amy Love, Real Food Whole Health

Juices from one roasted chicken (plus homemade chicken stock if needed to equal about 1 cup)
Juice from one organic lemon
Splash of white wine, optional
About a tablespoon of thyme leaves, organic, removed from stems
Unrefined sea salt and freshly ground black pepper to taste
Freshly roasted garlic (squeezed out from head, leaving skins behind)
Pat organic butter (from grassfed cows)
In medium saute pan over medium high heat, bring chicken drippings/stock to a boil. When reduced by about half, add lemon juice and white wine if using. Sprinkle in thyme leaves and a crack of black pepper. Add garlic. Taste and adjust salt, but be careful here, salt has concentrated during the reduction and you will probably not need to add any. I never do. Swirl in pat of butter and it's done.
Serve over your gorgeous roasted chicken and enjoy!
Notes:
If you only have a non-stick coated roasting pan, please cover it with parchment paper completely. This will help to minimize contact with your food and the toxic non-stick surface.
Save garlic heads (once roasted garlic has been squeezed out) to enrich your next pot of chicken stock. Yum!