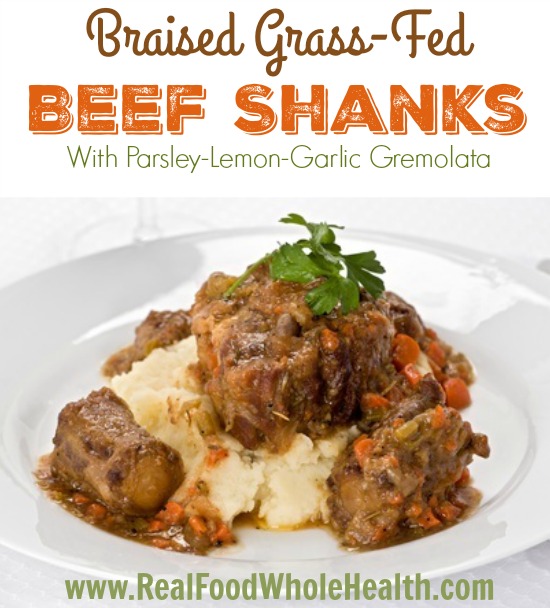 Hearty beef shanks are simmered slowly with aromatic vegetables until the meat falls off the bone.
Serve with pan sauce and refreshing gremolata– a combination of minced parsley, lemon and garlic that brightens up the plate and provides a welcome contrast to the savory shanks.
See notes for instructions on making this dish in a slow cooker or Instant Pot.

Braised Grassfed Beef Shanks with Gremolata
by Amy Love, Real Food Whole Health
Ingredients:
For the shanks:
4-6 grassfed beef shanks (with bone)
Unrefined sea salt and freshly ground black pepper
2 TBL arrowroot powder or organic cornstarch
2-3 TBL lard from pastured pigs
3 organic carrots
, diced
2-3 stalks organic celery, diced
1 large organic onion, diced
3-4 cloves garlic, smashed and minced
2 TBL tomato paste
1 cup dry red wine
2 cups homemade (or this) beef broth
1 bay leaf
4-6 sprigs fresh thyme
For the gremolata:
1/4 cup finely chopped organic parsley
1 clove garlic, finely minced
Zest of 1 lemon
, minced
1/2 tsp unrefined sea salt
Directions:
Pat the beef shanks dry with paper towel. Season with a generous amount of salt and pepper, then dust with arrowroot or cornstarch.
In a large Dutch oven, heat the lard over medium-high heat.
Add the shanks and sear on both sides until well browned. Remove shanks and set aside.
Add carrot, celery, onion and garlic to the pot. Cook, stirring frequently, 4-5 minutes or until onion is translucent and garlic is fragrant.
Stir in tomato paste, and continue cooking for 1 minute.
Stir in wine, and scrape the pot to release any browned bits from the bottom. Return shanks to pan and add broth, bay leaf and thyme.
Bring to a boil, then reduce heat to low. Simmer, covered, for about 2 hours, or until the shanks are tender and falling off the bone.
Check periodically to make sure the shanks are covered 3/4 of the way up with braising liquid, topping up with water or broth if the liquid level gets too low.
Meanwhile, prepare the gremolata. Combine the parsley, garlic and lemon zest on a wooden cutting board. With a large chefs knife, chop through all ingredients together, running the knife over and over in various directions to uniformly chop everything together. Put the gremolata in a small bowl and season with salt. Store, covered, in the fridge until ready to serve.
Once shanks are ready, remove and transfer to a serving platter, leaving the braising liquid in the pot. 
Increase the heat to medium-high, and bring the braising liquid to a boil.
Cook, stirring frequently, for 4-5 minutes or until reduced to a thick, shiny sauce. Discard the bay leaves and thyme stems.
Taste to check the seasoning, and adjust as needed with salt and pepper.
Serve shanks with the sauce and top with a bit of refreshing gremolata.
Notes:
This dish is great on its own or over mashed potatoes, mashed sweet potatoes or parsnip puree.
You can also substitute short ribs (bone in or boneless) for the beef shanks.
This can also be made in a slow cooker, on high for 4-6 hours or in an Instant Pot– on "meat/stew" for 60 minutes. In Instant Pot, reduce wine to 1/2 cup and broth to 1 and 1/2 cups.
On Whole30? Omit wine and use additional broth, and use arrowroot powder in place of cornstarch or omit altogether.