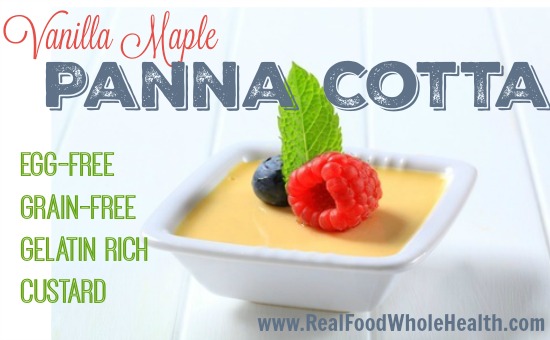 This delightful custard is egg-free and is lightly sweetened with maple syrup for a healthier, lighter treat.
Coconut milk can be used in place of cream for those who are dairy-free.
Vanilla Maple Panna Cotta
by Amy Love, Real Food Whole Health
Ingredients:
¼ cup warm water
1 TBL grassfed gelatin
2 ½ cups organic heavy cream
¼ cup pure maple syrup
2 tsp pure vanilla extract
Olive oil  for greasing ramekins
Directions:
Put the warm water in a small bowl. Sprinkle gelatin over the water and stir with a fork or small whisk to combine well and eliminate lumps. Leave it to firm slightly while you make the rest of the recipe.
Combine the cream and maple syrup in a medium sauce pan. Over medium high heat, whisk until the mixture just comes to a simmer.
Remove from heat and whisk in the vanilla extract and gelatin mixture.
Pour into olive oil greased ramekins and place in the fridge for at least 4 hours, but preferably overnight, before serving.
You can serve in the ramekin, or remove for a traditional presentation.
To remove: Run a knife around the edge of the ramekin. invert ramekin over dessert plate and the panna cotta should slide out.
If it sticks, rest the bottom of the ramekin in warm water for a few seconds and then try again.
Notes:
To prevent "pudding skin", you can press a small square of plastic wrap to the top of the custard (not the dish, the custard) in each dish.
Dairy-free? Substitute full fat coconut milk instead of cream.
These are lovely on their own, but can also be served with berry sauce, chocolate sauce, fresh berries and whipped cream, or lemon curd.