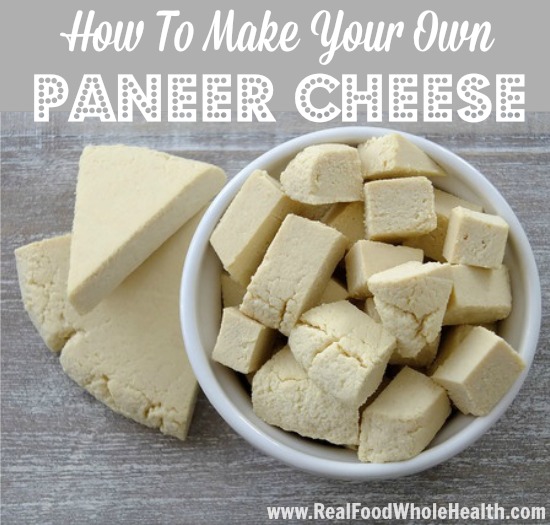 Paneer is a pressed cheese typically found in Indian cuisine.
It's incredibly easy to make at home- you basically make a simple ricotta and press out the moisture.
The finished paneer cheese is fresh tasting and mild, and can be used in a variety of recipes- see notes for recommendations.
Homemade Paneer Cheese
by Amy Love, Real Food Whole Health
Ingredients:
1 gallon organic whole milk (not ultrapasteurized/UHT)
1/2 cup organic white vinegar
Unrefined sea salt, optional
Directions:
Slowly and gently heat your whole milk over low heat until it reaches 180 degrees Fahrenheit. Stir often to make sure it doesn't boil or scald. It should take about 20-25 minutes to reach 180 F- If you rush, it can affect your end product.
Once the milk has reached temperature, gently stir in the vinegar, using a figure 8 stirring pattern and being careful not to over stir.
Remove from heat and let sit for about 10-15 minutes. You should see the curds separating from the whey.
With a slotted spoon, transfer the curds into a colander lined with a thin weave cotton kitchen towel (also called a floursack towel) Try to keep the curds intact as much as possible.
Drain and then gather the edges of the towel together, twist and place a heavy plate down on top of the towel to drain out as much liquid as you can. You can stack some cans on top of the plate if you need more weight. Leave this for 20-30 minutes (or even up to 45 minutes for a stiffer paneer) before unwrapping.
Unwrap and lightly salt the cheese if you wish.
You can now store the cheese for up to a week, or cut/crumble and cook right away.
Notes:
We like to use paneer in tikka masala, along with chicken or on it's own.
Palak paneer or saag paneer (spinach and paneer cheese) is a popular and delicious side dish
Paneer pakora (fried paneer) is a snack or appetizer of chickpea flour coated and fried paneer cheese, often with herbs or seasonings