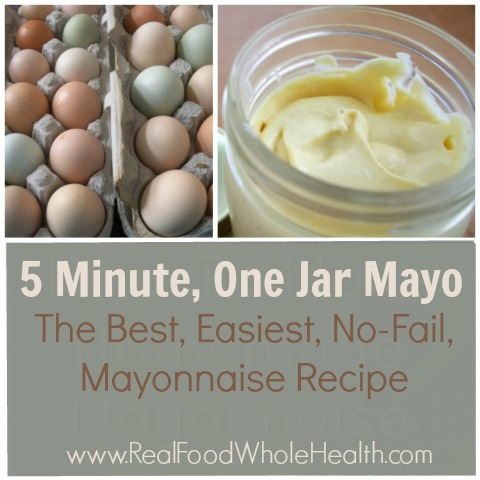 Homemade mayonnaise is so much more delicious and a healthier alternative to that store-bought stuff.
Even the so-called healthier options at the typical grocery store, like those labeled as "olive oil mayonnaise",  usually contain mostly rancid, genetically modified vegetable oils that aren't good for you at all.
Making your own mayonnaise isn't hard- we've shared our basic recipe and even a how-to video before and many of you have been making your own mayo now.
Our basic homemade mayo recipe utilizes a food processor (we use this one) or a blender (this is my favorite) but the biggest mistake people make is not adding the oil slowly enough to allow the blend to come together.
But my new method- the one I always use now- fixes that problem like magic!
You don't have to slowly add the oil- in fact you can plop it all in right up front with the rest of the ingredients!
Isn't that easy?!?
But there is a secret to making this work…
It's a hand held immersion (stick) blender! (Here's the one I have and love!)
Simply measure out all your mayo ingredients (recipe below) in a wide-mouth mason jar (I use these pint-sized jars) and then blend with your immersion blender, moving it a few times gently in and out of the mixture, while staying in the jar.
That's it! You just made mayonnaise. You can flavor it as you wish (garlic, sriracha, lemon…the possibilities are endless) and then screw the cap on (I use these reusable, BPA free screw on lids) and stick it in the fridge.
Use it up within 10 days or so and then make a new batch in minutes. It seriously takes me less than 5 minutes to whip up a whole jar of mayo that I can use for salad dressings, dips, sandwiches or wraps.
Once you get this down, you'll never go back to store-bought again!
The Easiest Mayonnaise Recipe Ever- 5 Minute, One Jar Mayo!
by Amy Love, Real Food Whole Health
1 whole, organic pasture-raised egg
1 whole, organic pasture-raised egg yolk only (no white)
1 tsp organic Dijon-style mustard (optional, but we always use this one)
1  1/2 TBL lemon juice (freshly squeezed is best, but this bottled one will work)
1/2 cup extra virgin olive oil (like this one)
1/2 cup neutral, healthy oil (like this avocado oil, this macadamia nut oil or even coconut oil, melted and cooled slightly)
Pinch or two of unrefined sea salt (we use this one)
Combine all ingredients in a wide mouth, pint sized Mason jar.
Blend with immersion (hand held, stick) blender.
That's it!
Now you can taste and adjust seasonings, adding more salt or lemon according to your taste preference.
TIPS:
How to Make Your Mayo Last Longer:
If you'd like to, you can add 1 TBL live, active whey to the mason jar with the rest of your ingredients. In this case, let the finished (blended) mayo sit at room temperature for 7 hours and then place in the fridge. It will last several months this way and contains beneficial bacteria. I've not tried this yet, but this is how to do it! (according to the must-have book, Nourishing Traditions)
Check out our Basic Mayonnaise Recipe for additional flavoring suggestions- herb, citrus, garlic and more…
Do you make homemade mayo? What are your favorite flavor combinations- do you like it plain or do you jazz it up? Tell us about it in the comments!
Standard FTC Disclosure: This post may contain affiliate links. When you buy through our links, we earn a small commission, at no additional cost to you whatsoever, which helps to keep this site going so that we can continue to offer free and useful content. Thanks for your support!