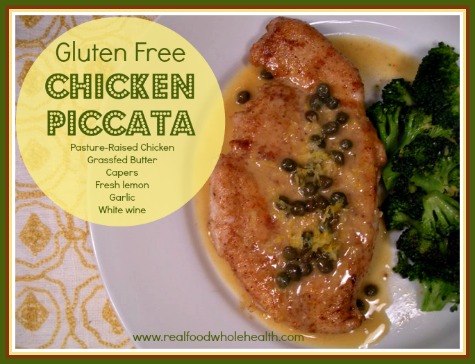 This lovely chicken dish is elegant enough to serve for company, but easy enough for a quick weeknight meal. Savory chicken topped with a silky sauce dotted with salty capers and brightened with fresh lemons, this dish is sure to please any palate. Simply pair with a veggie or two of your choice- garlic broccolini,  buttered broccoli with lemon, arugula salad or steamed asparagus makes a perfect pairing- and you're good to go!

Gluten-Free Chicken Piccata
by Amy Love, Real Food Whole Health

2 skinless, boneless organic, pasture-raised chicken breasts
Unrefined sea salt & freshly ground black pepper
Arrowroot powder, tapioca starch or organic (non-gmo) cornstarch, for dredging
4 TBL grass-fed butter or ghee
2 cloves garlic, smashed and minced (or grated)
3 TBL brined capers
¼ cup white wine or homemade chicken stock (or this boxed one is fine)
¼ cup organic crème fraiche (or organic sour cream)
Juice and zest of one organic lemon
Handful fresh organic parsley, chopped for garnish (optional)
Place chicken breasts between two pieces of wax paper or parchment, or in a plastic zip top bag. With a mallet, pound breasts evenly to ¼ inch to ½ inch thickness.
Season chicken with salt and pepper.
Dredge chicken in arrowroot powder and shake off excess.
In a large skillet over medium high heat, melt butter (or ghee). When melted and starting to sizzle, add chicken and cook for 3-4 minutes, or until browned. Lower heat to avoid butter browning too much. When chicken is browned, flip and cook other side for another 3-4 minutes.
Remove chicken and transfer to plate.
Into the pan add the garlic and cook until fragrant, about 1 minute. Add capers and stir. Add the wine (or stock) and crème fraiche (or cream) and simmer for 3-4 minutes to reduce slightly. Add lemon juice and zest and remove from heat. Check for seasoning, adding salt if needed.
Pour sauce over chicken and garnish with parsley if desired.