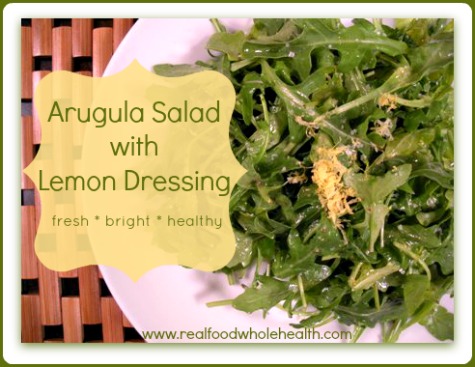 I just love a nice, fresh, simple salad. And the peppery bite of arugula is so fantastic, especially paired with a light lemon dressing. A perfect addition to almost any dish, this is particularly nice with chicken (like Gluten Free Chicken Paillard or Gluten Free Chicken Piccata, fish, beside a bowl of soup or piled on to a freshly baked gluten-free pizza with tomatoes and mozzarella.
Arugula Salad with Lemon Dressing
by Amy Love, Real Food Whole Health
1 organic lemon, juiced and zested
1/4 cup high quality extra-virgin olive oil
Unrefined sea salt and freshly ground black pepper
About 4 cups of fresh organic, local arugula, washed and dried
In a medium size glass bowl, add lemon juice and zest. Slowly whisk in olive oil. Season with salt and pepper. Add arugula and toss to coat. Serve as is or with desired toppings.
Suggested Toppings– individually or a few combined
Fresh feta cheese (made with raw grassfed milk)
Grated raw milk parmesan (can also add into dressing)
Crumbled blue cheese (made with raw grassfed milk)
Cubed fresh mozzarella
Ripe cherry tomatoes, halved
Sliced red onion
Shaved fennel
Crispy walnuts or pecans
Sliced pastured chicken
Pumpkin or other seeds, soaked/dried
Dried cranberries or cherries, unsweetened and unsulphured
Cooked and crumbled pastured bacon (no nitrates/nitrites)
Pine nuts
Citrus- blood orange is especially good (can also use blood orange juice instead on lemon juice in dressing)
Etc.