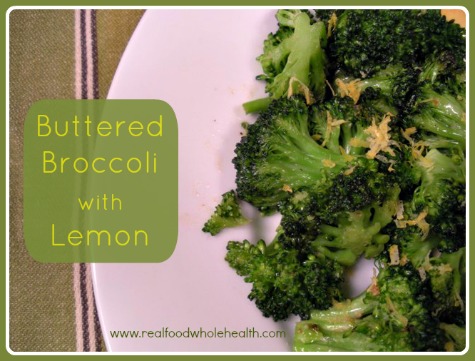 This easy, nutritious and utterly delicious vegetable side dish goes with so many entrees. It's very quick, too!
Buttered Broccoli with Lemon
by Amy Love, Real Food Whole Health
1 head organic broccoli, washed and florets trimmed from stems
2 TBL grassfed butter
Organic garlic clove, grated or granulated garlic (optional)
Unrefined sea salt & freshly ground black pepper
Juice and zest of one half organic lemon
In a saucepan over medium heat, simply melt butter and add broccoli florets. Add garlic if using, or season with salt and pepper and granulated garlic (if using). Toss broccoli to coat with butter and cook until broccoli is slightly tender and bright green. Don't overcook. Squeeze lemon juice over broccoli and top with zest.
Check for seasonings and serve.
Excellent with Gluten Free Chicken Paillard and Gluten Free Chicken Piccata!