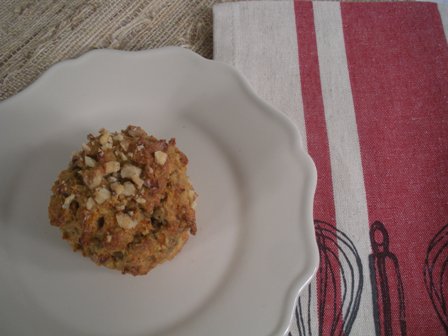 These muffins are simple and delicious! They use our cinnamon apple recipe to create a fantastic gluten-free and grain-free muffin that is GAPS friendly and can be made without added sugar or sweeteners.
Cinnamon Apple Muffins
by Amy Love, Real Food Whole Health
Ingredients:
2 ½ cups blanched almond flour
½ tsp unrefined sea salt
½ tsp baking soda
¼ tsp cinnamon
¼ cup coconut oil or ghee, melted and cooled slightly
1 TBL vanilla extract
1 egg (or 2 egg yolks)
1 tsp honey (optional)
1 ½ cups cinnamon apples, prepared and cooled slightly
¼ cup filtered water, more or less as needed
1/4 cup ground crispy nuts, optional, for topping
Directions:
First- prepare cinnamon apples and allow them to cool slightly
Preheat oven to 350.
In a large, glass mixing bowl, mix almond flour, salt, baking soda and cinnamon. In another glass bowl, mix coconut oil or ghee, vanilla extract, egg (or yolks) and honey. Add wet ingredients to dry ingredients and mix well. Fold in cinnamon apples. Add ¼ cup filtered water (or more or less as needed to make batter moderately thin, a scoopable consistency, and not too thick). Scoop into parchment lined muffin tins (a ¼ cup measure or ice cream scoop works well). Top with ground nuts if desired.
Bake for 25 – 30 minutes until tops are slightly browned and a toothpick comes out clean. Allow to cool in pan about 15 minutes before serving.
Makes approx 12 muffins.
Store covered in the fridge. Great right from the fridge or warmed in the oven, freezes well- thaw slightly and reheat in the oven or toaster oven. Do NOT microwave!