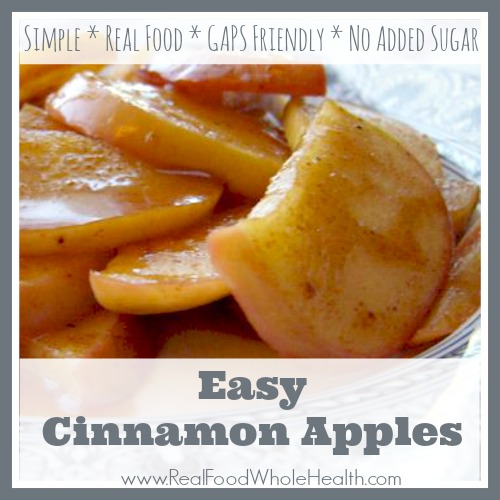 This is a simple, kid-friendly recipe. It's GAPS friendly, has no added sugar or sweeteners, is a great side dish (especially for pork) and a base for both of these grain free muffins and pancakes.
For a sweet treat, enjoy these apples warm or cold, and even try topped with fresh, homemade, maple-sweetened whipped cream. 
Easy Cinnamon Apples
by Amy Love, Real Food Whole Health
2-3 TBL ghee or coconut oil
3 apples, peeled and cut into small chunks
2 tsp cinnamon
1 tsp nutmeg
Dash of unrefined sea salt
¾ – 1 cup filtered water
In a medium sauté pan (with lid), over medium high heat, melt ghee or coconut oil. Add apples and stir to coat with ghee/oil. Add cinnamon, nutmeg and dash of salt. Stir to coat well. Allow apples to cook for a minute or two, until pan is quite hot. Add water (start with ¾ cup) and cover immediately (you want to trap the steam).
Reduce heat to low and allow apples to cook for about 45 minutes, until soft enough to smash with the back of a spoon. Keep an eye on the pan during cooking, and add additional water if needed to keep the pan from cooking dry. The apples should be moist, but not swimming. When soft, smash all the apples to desired consistency and stir well. Can thin with additional water if desired.