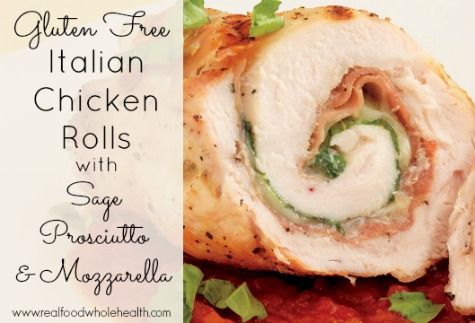 These are simple and simply delicious! Good enough for company, but easy enough for practically any weeknight. The marriage of sage and prosciutto is just perfect- enjoy!

Italian Chicken Rolls with Sage and Prosciutto
by Amy Love, Real Food Whole Health
4 boneless skinless pastured chicken breasts, pounded ¼- ½ inch thick
Unrefined sea salt and freshly ground black pepper
Organic granulated garlic
4 slices good quality, thinly sliced prosciutto (could use no-nitrate/ites ham or bacon)
12 fresh sage leaves
1 cup grated cheese, raw from grassfed cows preferred (cheddar, mozzarella or swiss are good)
2 TBL coconut oil, pastured lard or ghee
½ cup white wine (Sauvignon Blanc is a nice choice)
1 (28-ounce) jar crushed tomatoes (or BPA free can or homemade sauce)
2 cloves garlic, grated or minced
8 toothpicks
Place pounded chicken breasts on a glass cutting board or other safe workspace. Season with salt, pepper and granulated garlic. Top each breast with one slice of prosciutto, 3 sage leaves and 1/4 cup of grated cheese. Roll up the chicken as tightly as you can, holding it together with two toothpicks per rolled breast.
In a large, heavy skillet over medium-high, melt fat of choice. Using tongs, add the chicken rolls. Brown on all sides, about 3-4 minutes per side. Remove the chicken from the pan to a plate. Add the white wine and simmer for 2 minutes while scraping up the brown bits from the bottom of the pan with a wooden spoon. Add the tomatoes (or sauce) and stir well. Season with salt and pepper and add grated garlic. Simmer about 5 minutes to let the flavors mix.
Return the browned chicken rolls to the pan. Cover and simmer the chicken in the tomato sauce for about 10 minutes. Then turn the chicken rolls over and cook until done, about 8-10 minutes.
Remove the chicken from the pan to serving platter. You can remove the toothpicks if you wish or remind your guests to watch for them. Top chicken rolls with sauce and serve immediately.