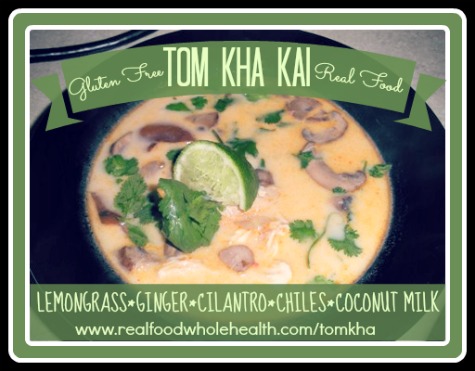 This traditional Thai soup (pronounced tom- kuh- kie) is a favorite of ours, but it's hard to trust the ingredients in restaurant versions. Sadly, many of the traditional ethnic restaurants have stopped using nutrient-dense foods and have jumped on the processed food bandwagon.
This version uses homemade chicken stock made from pastured chicken, nutrient-dense coconut milk and a variety of natural ingredients that have incredible flavors- lemongrass, galangal (a Thai ginger), kaffir lime leaves and chilies. This real-food recipe is naturally gluten-free, dairy-free, and egg-free! Tom Kha Kai is a gorgeous blend of spicy, sweet, sour, salty and earthy flavors. If you've never tried it before, I highly suggest that you do- it's incredibly delicious and soul-satisfying!
Tom Kha Kai
by Amy Love, Real Food Whole Health
Makes 4 bowls of soup
3 cups homemade chicken stock (or fish stock)
3-4 stalks of lemongrass (the lower white parts only- about 6 inches long)
Large piece of galangal (Thai ginger), sliced into about 12 rounds
4-6 kaffir lime leaves, handtorn in half
1 organic garlic clove, peeled, smashed
3 cups organic coconut milk- full fat (homemade or canned-I prefer Native Forest due to BPA free cans)
2-3 Thai chilies or 2 tsp chopped red chilies (I buy mine frozen in cubes) or red pepper flakes
2-4 TBL (plus) fish sauce (I use Red Boat or Thai Kitchen)
1 tsp coconut sugar (or sucanat/rapadura)
1 TBL (plus) red curry paste (I use Thai Kitchen)
12 oz uncooked pastured chicken, cut into cubes (see notes below for using already cooked)
4-6oz of mixed organic mushrooms, chopped
Juice of 2 organic limes
4 TBL organic cilantro (fresh, leaves plucked from stems)
Directions:
Bruise lemongrass, galangal and garlic clove by striking with the flat side of a large knife or a meat tenderizer/mallet. You want the juices to release into the stock.
In a medium stockpot, bring chicken stock, lemongrass, galangal, kaffir lime leaves and garlic clove to a boil. Reduce to simmer for about 10 minutes.
Add in coconut milk, chilies, fish sauce (start with 2 TBL and work up- saltiness varies by brands), coconut sugar or sucanat, and red curry paste (can adjust to taste). Simmer 10 minutes more.
Pour soup through a strainer and into a large bowl. You want to remove the large pieces of herbs, etc. Return strained soup back to stockpot. Add in chicken and mushrooms and cook about 8-10 minutes.
Remove from heat and stir in lime juice and cilantro leaves. Taste and adjust seasonings as needed. Fish sauce is salty, lime juice is sour, chilies are heat and sugar is sweetness. It should be nicely balanced.
NOTES:
I've used leftover roasted chicken, cubed or shredded and it works great. No need to cook for as long at the end – maybe just 5 minutes.
I usually use red chilies that have been frozen in individual 1 tsp. serving size cubes. They stay in the freezer and it's easy to pop one or two in. You can also use red pepper flakes if you have no other options.
While many of these ingredients seem exotic, most can be easily picked up at a well-stocked supermarket, like Whole Foods. Make sure to read ingredients carefully on items like fish sauce and curry paste. You are looking for pure ingredients with no chemical additives, veggie oils, GMOs or any other nasties.
Galangal is one of the more challenging ingredients to find. While ginger is a poor substitute for the earthiness of galangal, I've made it with ginger before and it was still a very tasty soup. (It's just not Tom "Kha") Just roughly peel a large piece of ginger root (you just want to expose the flesh- it doesn't have to be perfect) and then smash it a few times as described in step one. Add it when you would add the galangal.
Traditionally, this soup is not strained and is served with all the large chunks of lemongrass, etc in it. I prefer not to eat around these items and feel it's messy to eat, especially when serving to kiddos. So, I strain it, then add in my chicken and mushrooms. It's a more pleasurable eating experience and all the flavors are still there.
If you prefer to use something other than chicken, go for it. Tom Kha Goong is the same soup but with prawns (shrimp) in place of the chicken. Tom Kha Hed is with additional mushrooms instead of the chicken. Feel free to use mixed seafood- calamari, fish, shrimp- yum! Just add your seafood closer to the end and don't overcook.