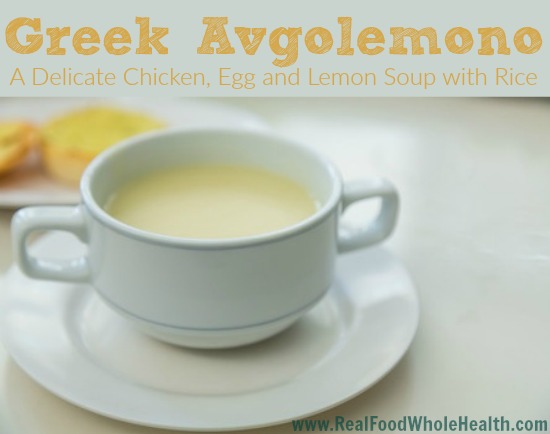 This soup is a delicious and very nutrient-dense food. Healthy, savory homemade chicken stock is brightened with fresh lemon zest and juice, made silky smooth by the addition of pastured eggs and enriched with fragrant basmati rice and roasted chicken. Perfect for any day and very nourishing and uplifting when you are under the weather.
Greek Chicken, Lemon and Egg Soup (Avgolemono)
by Amy Love, Real Food Whole Health

Ingredients:
8 cups homemade (or this) chicken stock
1 tsp. unrefined sea salt, or to taste
1/2 cup organic white basmati rice
1-2 cloves garlic, peeled, smashed
3 organic eggs, at room temperature
2 tsp. fresh organic lemon zest
Juice of two organic lemons
6-8 oz roasted pastured chicken, cut in chunks or shredded
Freshly ground pepper
Directions:
In a large stockpot over medium heat, bring chicken stock to a boil. Add salt, rice and garlic cloves and cook until rice is tender, about 10 minutes.
Meanwhile, prepare the egg and lemon blend. In a glass measuring cup, beat the eggs with a small whisk until frothy. Add the lemon zest and juice to eggs in a slow, steady stream while whisking constantly.
When the rice is tender, move the soup off the heat. Remove 1 cup of hot soup broth and very slowly add it to the egg blend while whisking constantly. (This will temper the eggs so they can be added to the rest of the soup without scrambling)
Pour the egg/lemon/broth mixture into the stockpot. Add chicken and adjust your salt and pepper to taste.
If the soup needs to be heated, heat slowly and do not allow it to boil.