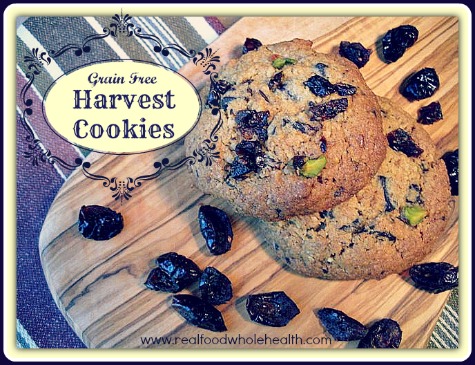 These cookies are a delicious grain free (and gluten-free) treat! Starting with a base of our grain-free chocolate chip cookies, we then add in pistachios, cranberries and coconut for a trail-mix inspired cookie that is sure to please.
Harvest Cookies (grain-free)
by Amy Love, Real Food Whole Health
1 c organic butter (from grassfed cows preferred), softened
1/2 cup organic sucanat (or other natural sugar)
2 pasture-raised eggs, beaten
1 TBL organic high-quality vanilla extract
1 tsp unrefined sea salt
1 tsp baking soda
3 cups blanched almond flour (fine ground)
2 cups finely ground, dried, unsweetened coconut flakes (not coconut flour)
1 cup chocolate chips (at least 60% cocoa content or higher)
½ cup ground pecans or walnuts, preferably organic, soaked and dehydrated
½ cup coarsely shredded, unsweetened, dried high-quality coconut
¼ – ½ cup dried cranberries (unsweetened preferably, unsulphured, organic preferred)
¼- ½  cup ground pistachios
Preheat oven to 350 F.
In a large glass bowl, cream butter and sucanat. Mix well. Add eggs and vanilla extract and mix until smooth. In a separate glass bowl, mix salt, soda, almond flour and coconut flakes. Add dry ingredients to the wet ingredients. Stir in chocolate chips and nuts, shredded coconut, cranberries and pistachios.
Spoon onto parchment lined cookie sheet by the tablespoon full, spacing about 2" apart. Bake at 350 for about 10-15 minutes or until slightly browned. Do not over bake.  Allow to cool on cookie sheet for about 5 minutes before moving them to cooling racks finish cooling. Store in an airtight container. Makes about 2 – 3 dozen cookies, depending on how big you make them.
Notes:
Dairy-free? Use ghee or coconut oil in place of butter
Want to use maple syrup? No problem-sub it for sucanat.
On GAPS? Sub honey or applesauce in place of sugars and use GAPS-friendly chocolate chips or skip and use just the dried fruits and nuts. Use ghee or coconut oil in place of butter.