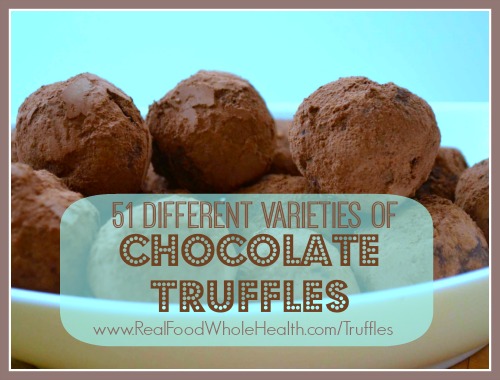 We decided yesterday, rather unexpectedly, and rather innocently I might add,  to try out a truffle recipe. At first, I was planning on using the traditional roll-ins- some coconut, some cocoa powder, and maybe a few different types of nuts. Somewhere along the way, however, my creative nature took over and somewhere between mixing Indian spices, grinding chilies, zesting citrus fruit and whipping up a caramel, we decided to play around with different flavor combinations. What eventually transpired was a 3 ½  hour long experiment, where 51 (yes, 51!) different flavors of truffles were tested and SIX very unusual truffles emerged as winners.
I think I used every small bowl, ramekin and saucer I own. They were all over the counter, the stove top and the island holding various spices and traditional and untraditional "roll-ins" for truffles. Nuts of every variety, coconut – toasted and untoasted, caramel, jams and marmalades, nut butters, candied ginger, peppercorns and chiles, various sea salts of varying textures- the kitchen had transformed into some sort of wild science lab of trufflosity. (just in case you are wondering, trufflosity is a very technical term that means the curiosity of truffle-ing)
First, I made the base recipe. From this, you could tackle any number of variations. I'll suggest some below.
A note: We're real foodies, not sugar addicts.  Please note that we did not eat 51 truffles. I'm not sure that's even physically possible. We did, however, taste a tiny amount of each combination in order to rate it. It's a tough job but someone has to do it.
Base Truffle Recipe:
1/3 cup cream (organic, raw from grassfed cows preferred OR organic coconut cream)
6 TBL organic butter or coconut oil
2 cups high cocoa content organic chocolate (chips or broken bar pieces)
Over medium heat, bring cream and butter to a simmer. Off heat add chocolate. Allow to melt, stir well. Pour into a glass dish, allowing mixture to be about 2-3" deep. Place in fridge until firm. Scoop up desired amount of chocolate and with cold hands, roll them quickly into rough balls and roll in desired coating. Place on plate and back into the fridge. Can be frozen.
Now, this is excellent as-is. However, here are some variations in the base recipe before we even get to different roll-in options.
Optional add-ins to base recipe:
A note on extracts- please use all natural-only (organic is best) not artificial flavorings. Want raspberry flavor? Use raspberries.
1 tsp vanilla extract
1 tsp almond extract
1 tsp orange extract
½ tsp mint extract
1 tsp liquor or liqueur like Kahlua, Amaretto, Bourbon, Cognac, Port, Sherry
2 TBL cacao nibs
1 TBL dried fruit- cherries, blueberries, raspberries, cranberries, dates, prunes, figs, pineapple, mango or ginger
1-2 TBL finely chopped nuts- almonds, cashews, walnuts, macadamias, pistachios, hazelnuts, etc
A swirl of jams or marmalades- in lieu of an extract, this is an attractive flavoring option (orange marmalade is divine, as is raspberry jam, fig jam and as suggested by my lovely mother, blackberry jam)
A swirl of pureed fruit- berries, etc – another attractive flavoring option
1 TBL Pomegranate seeds
1 TBL Zest-(organic please!) orange, tangerine, mandarin, blood orange, lime
1-2 tsp Grated fresh ginger- go easy
1-2 TBL Nut butter- almond, peanut, walnut, etc.
1 TBL grated coconut – toasted OR untoasted
Drizzle of Maple syrup – now this just makes it sweeter, but it's got a nice taste
Drizzle of Caramel
Spice blends- some of these are better added in so that it's dispersed evenly and not overpowering
Ok, you get the picture. There's a lot of variation to the base recipe. Just remember that whatever you add to the base recipe, you get in all the truffles, so if you want a nice variety and  don't want to limit your roll-in options, you might not want to make all, say, mint truffles. (Mint truffles rolled in lime zest aren't exactly delicious) Of course, also remember that some things are better added in to the base recipe, rather than rolled in afterwards. (It's difficult to roll truffles in different extracts or pureed fruit, it's a little messy! Although we did do some as a pre-roll to a more appropriate coating, ex. Truffle rolled in maple syrup and then pecans)
My suggestion? If you DO want to make several different varieties with base recipe add-ins, then make your base, pour some in a small bowl, mix in the addition and then place in a separate glass dish to place in the fridge to firm up. You might have a lot of dishes of truffles, but at least you've got variety.
Ok, so on to the roll-in options.
The Standards:
Cocoa powder (unsweetened)
Coconut– toasted and untoasted
Nuts- cashews, pecans, peanuts, walnuts, macadamias, pistachios, etc
Cacao nibs
The Not-So-Standards:
Orange zest
Lime zest
Saffron (yes, saffron)
Sea salt and cracked pepper
Chile pepper blends
Chopped crystallized ginger
Spices (like chili powder, cinnamon, (put those together!) Five Spice Powder and Cardamom)
And then my favorite:
Layers of Flavor:
This is where trufflosity gets fun! Mixing and matching. Keep in mind what you can add-in to the base recipe, then the different items you can roll them in and sprinkle on top! For instance, try a truffle that has taken a roll through maple syrup and then pecans and then gets a sprinkling of sea salt. Um… YUMMY! Here's some other winning combos:
Toasted coconut and then lime zest
Caramel then cocoa powder
Orange marmalade then cocoa nibs
Orange marmalade then walnuts (yum!)
Cocoa powder then chili powder and cinnamon (hello- mole!)
Orange zest and then mixed nuts
Nut butter then cocoa nibs, nuts, coconut, or cocoa powder
You get the idea. So here are our winning TOP SIX TRUFFLES and yes, we've named them.
Lime in a Coconut
Base truffle recipe with sprinkle of lime zest
Rolled in Toasted Coconut
Sprinkled with coarse Sea salt and lime zest
Truffle de Mole
Base truffle recipe with sprinkle of chili powder and cinnamon
Roll through cocoa powder with a dash of chili powder and cinnamon in it
High-Dollar Truffle
Base truffle recipe
Sprinkled with saffron
Dusted with cocoa powder
Dragon Truffle
Base truffle recipe with dash of finely ground sea salt with five pepper blend- Tellicherry black peppercorns, white peppercorns, pink peppercorns, allspice, and Szechuan pepper (take it easy- a little goes a long way)
Rolled in cacao nibs
Sprinkle of salt and pepper blend on top
Five Spice Truffle
Base truffle recipe
Rolled through cocoa powder
Rolled through "Five Spice", spice blend powder (cinnamon, fennel, cloves, star anise and white pepper)
MarmaNut Truffle (I protested this name, for the record)
Base truffle recipe
Rolled through orange marmalade
Rolled through toasted coconut
Rolled through crushed walnuts
Sprinkled with sea salt and orange zest
Finally, to conclude our journey through trufflosity, I will tell you what blends did NOT work out. Please do not try to recreate these under any circumstances. You will be sorry if you do.
Base truffle recipe with basil oil addition
Ok, to be fair, basil and chocolate DO go together. I used to make a Panini with basil, brie and chocolate chips on buttered sourdough. It was fantastic. This truffle, however, was so not.
Base truffle recipe rolled through cloves
I don't know what to say here. I claim the "But it's a baking spice!" excuse. Just don't do it.
Base truffle recipe rolled through Garam Masala (an Indian spice)
In theory, this was a good one. The cumin ruined it all though. Amazing that this tastes SO good on chicken, but trust me, with chocolate, it's like a sweaty gym sock.
Base truffle recipe with addition of Bergamot
While it's good in Earl Grey tea, please, for all the love in the world, let it stay there!
And, as a bonus, I'll share with you The One That Got Away. I didn't get to try this, but I really wanted to- base truffle recipe with a dash of wasabi powder (or fresh wasabi) rolled in cocoa powder. Simple and unassuming on the outside, raw wasabi power on the inside. Sadly, my stash of wasabi was depleted, so it was a no go. If you try this, please let me know how it is. Could be awesome. Could be the most horrendous thing you've ever put in your mouth.
Who knows? That's the spirit of TRUFFLOSITY!
What truffles have you come up with? Which ones are you dying to try? Were there some that surprised you?