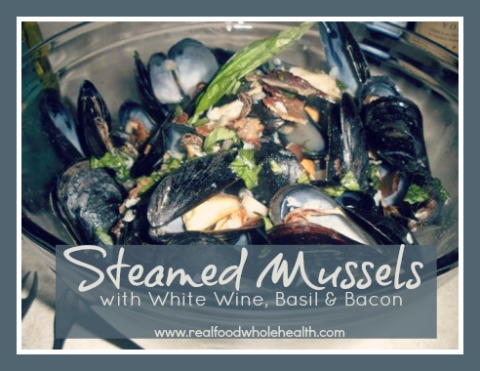 Mussels have been cultivated for almost 800 years and have been used as a food source for more than 20,000 years. It is truly a time tested food. (1)  They are also pretty easy on the pocketbook, giving you a lot of nutritional bang for your buck!
Mussels offer several health benefits. They are high in B12 vitamins and provide a readily absorbed source of many other B & C vitamins, amino acids, vital minerals including iron, manganese, phosphorus, potassium, selenium and zinc. They have more Omega 3 fatty acids than any other shellfish and are high in protein.(2) Plus, they taste great! Especially, when steamed with a nice white wine and accented with fragrant garlic, onions, smoky bacon and fresh aromatic basil and silky butter.
Steamed Mussels in White Wine with Basil and Bacon
by Amy Love, Real Food Whole Health

Serves 6-8 appetizer portions, or 4 dinner portions
Time- prep about 10 minutes, cook and serve in about 10 minutes more
Ingredients:
3 TBL organic butter (raw from grass fed cows preferred)
1 shallot, diced or 1/2 organic onion, diced
2 cloves organic garlic, peeled, smashed and minced
2 1/2 cups white wine (Chardonnay or Sauvignon Blanc are good choices)
4 lbs wild caught mussels, fresh (raw)
4 strips uncured (nitrate-free) bacon (from sustainably raised organic pork), cooked, crumbled
6-8 large organic basil leaves, sliced in thin ribbons (chiffonade)
Unrefined sea salt and freshly ground pepper
Organic lemon (optional)
Directions:
In a large stockpot (with lid available), over medium heat, melt 1 TBL of the butter. Add onions and garlic and saute until fragrant, about 3 minutes. Add wine and heat to almost boiling.
In the meantime, wash and debeard mussels (pull off the hairy, scraggly looking part- sometimes this has been done for you). Make sure mussels are closed tightly. If some have opened up, which is natural during storage so they can breathe (called "gaping") give them a hard tap on the shell (or hit against counter) and they should close back up. You can also do this under cold running water and can squeeze lightly on the shell. Give them a minute to close up. If any remain open, discard them as they've died and are no longer fresh. (You may have 1 or 2 per batch, not many)
Add cleaned, closed mussels to stock pot all at once and put the lid on. Let them steam for about 5 minutes or until they are all open (save for a couple). Shake the pot (with lid on) a few times while steaming to mix. Remove mussels with slotted spoon to large glass bowls (might take 2),  leaving liquid in pot.
Add butter, bacon (might save a little for garnish), and stir until butter melts. Throw in basil (might save a little of this for garnish too) and pour liquid over bowl(s) of mussels. Garnish with the little bits of bacon and basil and serve with lemon if desired.
Small forks come in handy for removing the mussels. We use our shells as scoopers to get all the liquid and bacon pieces. Make sure to have a large empty bowl for discarded shells.
Enjoy!
Source (1), (2): CanadianCove