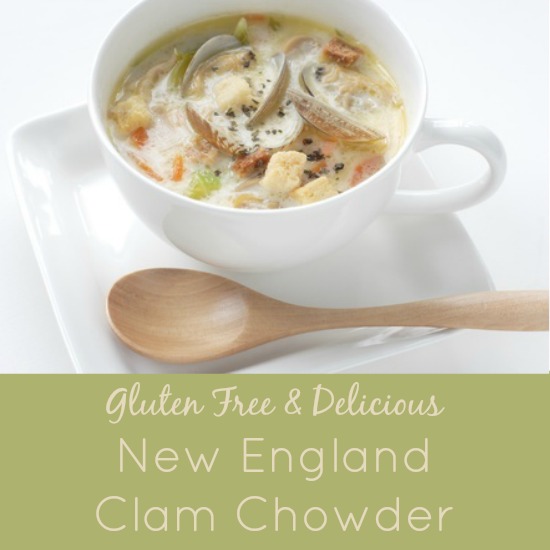 Gluten Free New England Clam Chowder
by Amy Love, Real Food Whole Health

Ingredients:
4 TBL organic butter (from grassfed cows preferred)
1 organic onion, diced
4-5 stalks organic celery, ends trimmed, diced
Unrefined sea salt and freshly ground pepper (mixed peppercorns preferred)
2 tsp minced organic garlic
6 sprigs fresh organic thyme
2 bay leaves (fresh or dried, organic, non-irradiated)
2 TBL arrowroot powder (or organic non-GMO corn starch or tapioca starch) (optional to thicken)
6 organic red potatoes, peeled and diced small
4 cups homemade chicken broth (can sub fish stock or clam stock)
16 oz frozen chopped clams, wild caught, defrosted, drained, sea water reserved
2 cups organic heavy cream (raw from grass fed cows preferred)
2-3 slices uncured pastured bacon, cooked, crumbled
Fresh herbs for garnish- parsley, thyme and chives are great
Additional butter if desired to melt into finished soup

Directions:
In large stock pot over medium heat, melt butter. Add onions and celery and cook until softened, about 3 minutes.
Add a generous dash of salt and pepper. Add the garlic, thyme, and bay leaves and cook  about 7-8 minutes.
Sprinkle on arrowroot powder, if using, and stir to combine. Add the potatoes.
Add chicken broth and reserved sea water to total about 5 1/2 cups of liquid (add filtered water if necessary) and bring to a boil. Lower the heat, cover, and simmer until the broth thickens slightly and the potatoes are very tender, about 30 minutes.
Mash some of the potatoes against the side of the pot to thicken broth. Remove from the heat.
Discard the thyme stems and bay leaves. Add clams and cream. Adjust salt and pepper to taste.
This is best prepared 30 minutes to an hour ahead of serving time so that the flavors can meld.
Set aside off heat for 30-60 minutes, then reheat slowly, stirring often, not allowing to boil. (You can skip this step and serve immediately, but if you have the time, let it sit a bit)
Serve in individual bowls and top with butter, bacon, fresh herbs (parsley, thyme and chives are best)
Enjoy!
Notes:
You could make this with fresh clams (or oysters too) or I suppose use canned clams as a last resort. If using fresh, you will need about 5 lbs. In a large stock pot over medium heat, bring 3 cups of filtered water to a boil. Add clams, cover and steam until open. Drain. Reserve cooking water. When clams have cooled, remove from shell and chop. Then proceed with the recipe, adjusting the broth/sea water mixture combined with cooking water to still use about 6 cups liquid in total.
Dairy-free? Use ghee in place of butter and coconut cream in place of dairy cream.
On GAPS or Paleo/Primal? Make dairy-free subs if desired and leave out arrowroot and potatoes. The soup will be thinner, but still delicious.