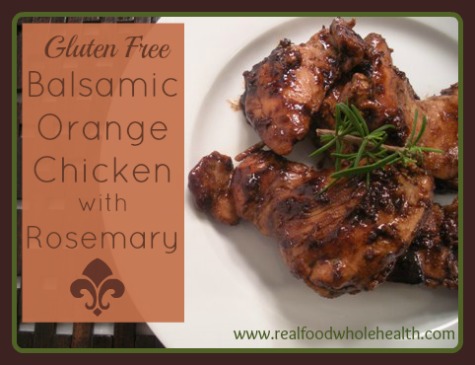 This dish is a favorite at our house! It utilizes pastured chicken thighs, which are an economical choice for dinner and the dark meat is a fantastic nutrient-dense food. You can use breasts or other poultry as well- duck would be fantastic!
Balsamic Orange Chicken with Rosemary
by Amy Love, Real Food Whole Health
Ingredients:
2 TBL coconut oil (or ghee, pastured lard, etc)
8 split boneless chicken thighs (organic, pastured/free-range chicken)
Unrefined sea salt, freshly ground pepper
Fresh rosemary, about 2 stems, leaves stripped off stems and chopped
1/3 c organic balsamic vinegar
1/3 c organic orange marmalade (I use Sicilian orange spread, only fruit-juice sweetened)

Directions:
Season thighs with salt and pepper. Melt coconut oil (or fat of choice) in large sauté pan over medium high heat.
Add chicken to pan and sprinkle rosemary over the chicken.
Brown chicken on both sides and cook through, about 4-5 minutes per side.
Remove chicken from pan and add balsamic vinegar to deglaze. It might be a wise idea to have the vent fan on or a window cracked during this step.
Scrape up browned bits off the bottom of the pan and then mix in marmalade/orange spread.
Add chicken back to pan to coat and serve.
Garnish with fresh chopped rosemary if desired.
This is great served with Carmelized Broccolini with Garlic Butter , Swiss Chard with Bacon,  Brussels Sprouts with Pancetta, or Creamed Spinach