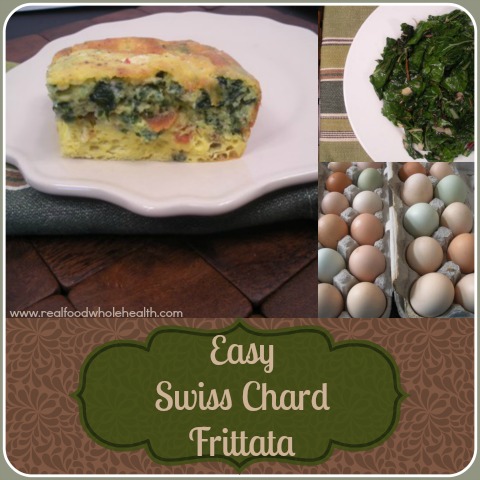 Great for breakfast, brunch, lunch or even dinner, this dish is a winner. It reheats well, so often I will make a double batch of swiss chard with bacon and garlic over the weekend, eat half with dinner and save half to make the frittata/quiche so it's ready to eat on busy weekday mornings.
Simply reheat in toaster oven or at 350 in oven for about 10 minutes. (Not the microwave. Why?)

Swiss Chard Frittata (or crustless quiche)
by Amy Love, Real Food Whole Health

Ingredients:
1 recipe prepared Swiss Chard with Bacon and Garlic
8 pastured eggs, beaten
1 ½ cups shredded raw milk cheese (cheddar, jack, swiss) (organic, from grassfed cows)
¼ cup milk or cream (organic, raw preferred, from grass fed cows)
Unrefined sea salt, freshly ground pepper and nutmeg (fresh or ground)
Grated parmesan (raw preferred)
Directions:
Preheat oven to 350.
Prepare swiss chard with bacon and garlic if you are not using leftovers. In a separate bowl, crack and beat eggs, season with salt, pepper and nutmeg. Add milk or cream and mix well. Stir in 1 cup of the cheese, reserving ½ cup.
Two ways to prepare this:
If you have just made the swiss chard with bacon and garlic and used an oven-safe pan, then pour the egg/milk mixture over the hot chard, stir quickly, top with cheese and place pan in oven for about 20 minutes or until set. This is a frittata.
If you have made the chard at another time and it's cooled (or leftover), mix chard into egg mixture and pour into a greased glass baking dish. Bake at 350 for around 25 minutes or until set. This would basically be a crustless quiche.
Options:
Other wilted greens, herbs, roasted potatoes (not raw), browned sausage or other meat, sauteed mushrooms and other cheeses would be great additions or substitutions.
Notes:
Dairy-free? You can omit the cheese and use coconut milk in lieu of raw milk/cream.