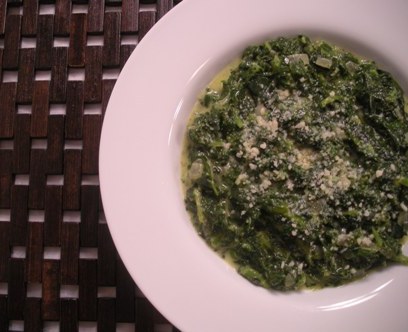 Easy Creamed Spinach
by Amy Love, Real Food Whole Health
Ingredients:
About 2 pounds of fresh spinach, washed, stems removed
1 TBL butter (organic from grassfed cows)
1 shallot, chopped fine
2 cloves garlic, peeled, smashed and chopped
Unrefined sea salt, freshly ground black pepper
Nutmeg, to taste
½ cup cream (raw from grassfed cows) or creme fraiche
Directions:
Bring a large pot of salted water to a boil. Add spinach and cook for 2 minutes, until wilted and bright green. Drain and remove to a colander. Squeeze spinach to remove as much water as possible. (You may have to use tongs, it will be hot!) Chop spinach as best you can and set aside.
In a medium sauté pan (not non-stick) over medium heat, melt butter. Add shallots and garlic and allow them to cook until softened, about 4-5 minutes. Add spinach, stir well, and season with salt, pepper and nutmeg. Allow to cook just a couple of minutes, then add cream. Allow cream to reduce by half, stirring often, until desired consistency. Serve immediately.
Perfect side dish for our hanger steak with brandy mushroom sauce!