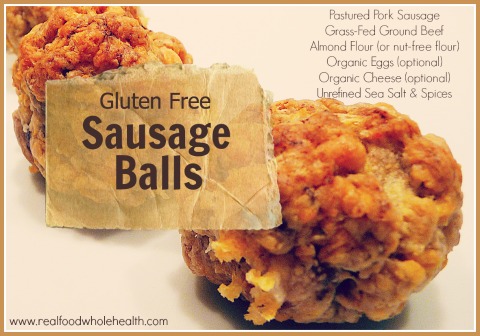 As you may know, I'm a Southern girl. And sausage balls are a family favorite- a tradition that goes back generations- and they've always graced the Christmas morning buffet.
However, the sausage balls I've always known have contained three things- feedlot/industrially sourced sausage full of nitrates and nitrites, the highly processed and nutrient-poor Bisquick, and pasteurized cheddar cheese (you know, that orange stuff).
Since we no longer eat any of those things, I've remade the sausage balls of yesterday to be nutrient-dense and gluten-free, made with only real food ingredients.
These are absolutely delicious and very easy to make. They keep well in the freezer and can simply be reheated in the oven or toaster oven for an anytime snack, tasty breakfast item or alongside soup or salad.
Gluten Free Sausage Balls (low-carb/egg-, nut-, dairy-free options)
by Amy Love, Real Food Whole Health
Ingredients:
2 lbs high quality ground sausage (organic, pastured pork with no nitrates/ites added)*can use hot, mild or a mix
½ lb grass-fed ground beef
2 cups raw cheese of choice, grated (I use cheddar)
2 1/2 cups blanched almond flour (or from soaked/dehydrated almonds)
2 organic, pasture-raised eggs
Unrefined sea salt, fresh ground black pepper
Other seasonings as desired
A note about other spice options- here are just a few to pick from. You can make this as simple or as complex as you'd like- just don't do all of these at once! (Try half the batch with one combo and the rest with another) Organic garlic powder or onion powder, fennel, a pinch of nutmeg, mustard powder (or a squeeze of high quality mustard), smoked paprika, sage, a drizzle of maple syrup, even a sprinkle of poultry seasoning or your sausage may already have seasonings that you will want to complement.
Directions:
Preheat oven to 375.
Mix all ingredients well in a large glass bowl. You will probably have to get in there with your hands. It's a messy job, but it's worth it.
Roll into balls and place on a parchment lined cookie sheet. Bake at 375 for about 25-30 minutes, depending upon the size of your sausage balls. (You want them cooked through)
Let sit on cookie sheet for about 3-4 minutes, then remove to a paper towel lined plate. Slice one in half to double check that it's cooked through and serve.
Makes at least four dozen, about 3/4 inch in diameter. These freeze well, IF you have any leftover!
Options:
Experiment with different types of cheeses. Pepper jack is a fav. Parmesan would be a nice addition as well. You can also add in some green chiles or jalapeno peppers if you choose. Fresh grated onion, garlic or bell peppers would be a tasty addition.
If you tolerate gluten, you can use a sprouted flour instead of almond flour. Reduce by ½ cup. You may need to add another egg or two for moisture.
Notes:
Nut free? Omit the almond flour and add an additional 3 eggs and ½ cup of cheese if you are nut-sensitive. A Tablespoon of coconut flour will also help bind, if you tolerate it, but it's not essential.
Egg free? If you are egg sensitive, you could probably get away without them, maybe add a little milk or other liquid to help blend.
Dairy-free? If you are dairy sensitive, omit cheese, add extra egg and almond meal to help bind.
Nut-dairy-egg free? Simply make meatballs, using sausage and ground beef with seasonings. These will still be tasty.