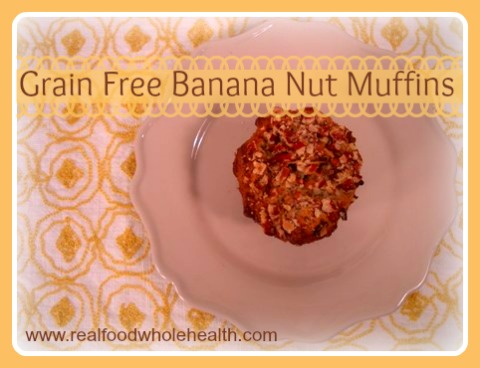 These tasty little muffins are easy to make and they freeze beautifully. Simply reheat in the toaster oven or oven (not the microwave)
Gluten-Free Banana Nut Muffins
by Amy Love, Real Food Whole Health

Ingredients:
3 ripe bananas, peeled (organic is best)
2 tsp organic vanilla extract
4 pasture-raised, organic eggs
1 TBL pure maple syrup (optional)
6 TBL grassfed butter (or coconut oil) lightly melted, cooled slightly
3 cups blanched almond flour
½ c. chopped nuts (pecans or walnuts are good) (soaked/dehydrated are best)
Directions:
Preheat oven to 325 F.
In a large glass bowl, smash peeled bananas with a fork or potato masher until fairly smooth.
Add vanilla extract, eggs and maple syrup. Mix well.
Add butter (or coconut oil) and mix to combine.
Slowly add almond flour and chopped nuts and mix very well.
Spoon into parchment muffin cups in muffin tin and smooth out top slightly with fingers.
Bake for 25- 30 minutes or until tops are slightly browned and toothpick comes out fairly clean.
Serve warm with lots of fresh grassfed butter.
Makes 12 large muffins.
Notes:
On GAPS or low-carb? Simply omit maple syrup.