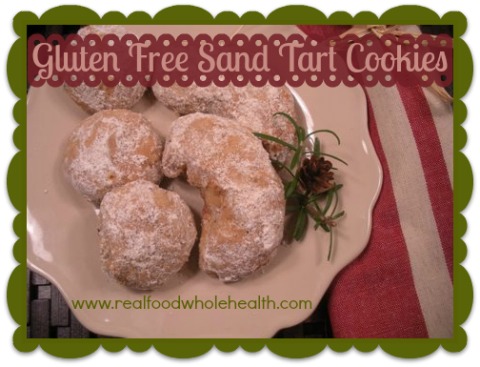 Sand Tarts are an almond shortbread-style cookie- they are a family favorite and a cherished tradition. When I first found out that I couldn't eat gluten/wheat anymore, a couple of weeks before Christmas no less,  I thought I'd never have them again.
After playing around with the recipe however, the tweaked version is as delicious if not more delicious than the original!  These are my favorite cookies, delicately flavored with rich butter and almond extract, never too sweet, and a real crowd-pleaser. They go great with homemade egg nog, wassail, a hot toddy, tea or coffee. (Try Teeccino or Dandy Blend for an herb-based coffee substitute)
The recipe could be made strictly with sprouted brown rice flour, but the addition of almond meal and coconut flour lower the carb count significantly.  Don't have coconut flour? Use just almond meal and brown rice flour. It's very forgiving! It's already egg-free and could be dairy-free if you subbed coconut oil for the butter.
The original carb count was approx 13 grams PER cookie….it's now about 3 grams. Now, I don't routinely count calories, carbs or other macronutrients, but when it comes to the holidays and baking, I like to occasionally know what I'm really consuming.  In addition to making these gluten-free (of course, you can still use wheat flour, try sprouted if you do), changes were made to make the recipe more nutrient-dense and more easily digestible, like using sprouted rice flour, soaked/dehydrated nuts and healthier sugars.
You roll the cookies into crescents and balls (like half and full moons), so the recipe makes about three dozen cookies, depending upon the sizes you roll. I almost always double the recipe as the cookies go fast and you'll want to share them. Package some to give to friends, neighbors and co-workers.
Gluten Free Sand Tarts
by Amy Love, Real Food Whole Health

Ingredients:
3/4 cup (12 TBL) organic butter, softened (from grassfed cows preferred)
3 TBL unrefined sugar (sucanat, rapadura, palm sugar, or even maple syrup)
1- 1/2 teaspoon organic pure vanilla extract
1 TBL organic pure almond extract
2 cups flour of choice (I use 1- 3/4 c. blanched almond flour and 1/4 c. sprouted brown rice flour OR 1/4 c. coconut flour)
1/2 teaspoon unrefined sea salt
2 cup finely chopped pecans
About 1/4 cup  organic powdered/confectioners sugar for rolling- it's just a dusting
Directions:
Preheat oven to 350.
Cream butter, add sugar gradually and beat until fluffy (easiest in a mixer)
Add extracts, mix well.
Slowly add flour and salt to creamed mixture.
Fold in pecans.
Using your hands, shape into crescent moons and round balls.
Place on parchment-lined cookie sheet or baking stone.
Bake for about 20 minutes or until slightly browned.
Let cookies cool on baking sheet- they will be crumbly while hot.
When almost completely cooled, roll lightly in powdered sugar. Be careful not to crumble/break them, though when cool they aren't as likely to break as while hot.
ENJOY!
TIP: For a smoother sugar, simply throw the sucanat, rapadura or palm sugar in a coffee grinder or food processor. You can use this in the recipe, and also do the same thing for the "powdered" sugar to roll the cookies in.