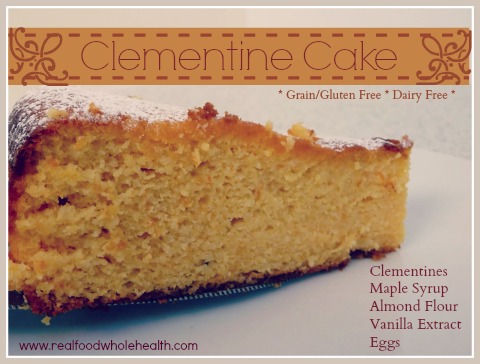 Spicy and sweet clementines, bursting with brightness in the midst of winter, golden pastured eggs, nourishing almond flour, and the sweetness of maple syrup combine to make this dessert that quickly becomes a tradition. It's gluten free and naturally dairy free and I've never met a soul who didn't just love it. Enjoy!
Clementine Cake
by Amy Love, Real Food Whole Health

Ingredients:
1 pound UNPEELED organic clementines (~5 pieces of fruit)
¼ cup pure maple syrup
2 tsp organic vanilla extract
6 pasture-raised, organic eggs
2 1/3 cup blanched almond flour
1 tsp aluminum-free baking powder
Directions:
Wash clementines very well with hot water and a squeeze of SAFE (non-toxic, not anti-bac) dish soap.
(If you do not have safe dish soap, use some vinegar and soak the clementines in hot water to cover with about ¼ c white or apple cider vinegar for 4-5 minutes. This will reduce any residues on the fruit.)
Put the washed, unpeeled, whole clementines in a pot with enough cold, filtered water to cover. (they will float, but add enough water that they would be covered).
Put on stovetop and bring water to a boil, reduce heat to simmer and cook for about 2 hours.
Keep an eye on the pot and add more water, returning to boil and then simmer again, if needed.
Once clementines are done, preheat oven to 375.
Remove clementines from water and allow to cool slightly. Cut them in half and remove any large seeds. (My clementines have never had seeds, but remove any that are there). DO NOT PEEL.
Add clementines, halved, to food processor or blender (I use my VitaMix) and blend until very smooth.
Taste mixture- it might be fairly bitter. Note the amount of sweetness- if you have very sweet fruit, you might consider using less syrup, if you have bitter fruit, you might need a tad more.
Add maple syrup and vanilla extract, blend again, and taste.
Adjust to desired sweetness- though keep it on the light side.
Once your mixture is fairly cool, start adding your eggs one at a time. I keep the blender running slowly while I add the eggs.
Mix well. Pour mixture into a clean glass bowl.
In a separate bowl, mix almond flour and baking powder. Slowly fold the dry ingredients into the clementine mixture and mix just until ingredients are incorporated.
Pour into a buttered and parchment-lined springform pan. Bake for 30 minutes-40 minutes or until toothpick comes out clean. The top will brown just slightly, you may have to cover it after 20 or so minutes to prevent burning.
Remove from oven and allow to cool in pan. When cake is cold, it can be removed from the pan.
The cake is good the day it is made, but is even better the next day. Keep refrigerated.
Serve cool or room temp by itself (which is perfectly delicious) or for extra decadence, serve with homemade fresh whipped cream.
Notes:
*This cake can also be made into cupcakes and baked for 15-20 minutes.
*You can use oranges, lemons, mandarins or tangerines for this cake as well. Simply adjust the maple syrup to account for the sweetness or bitterness of the fruit used.
*A simple glaze of citrus juice and powdered sugar can be made and drizzled on top of the cake in lieu of whipped cream.
Inspired by a recipe by Nigella Lawson.