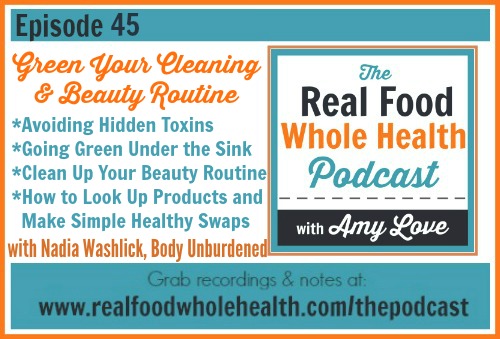 In this episode, we're talking about how to green your household cleaning and beauty routines- how to identify hidden toxins, look up your current products and pick (or make!) healthy swaps and more, with our guest, Nadia Washlick of Body Unburdened.
[player]
From this episode:
Website: Nadia's website Body Unburdened
Article: Parabens and Breast Cancer
Article: Essential Elements Series- Element Three: Non-Toxic Lifestyle, Part 1 of 3
Website: Skin Deep Database
Article: Quick Facts About Body Burden
Article: Over 200 toxins found in newborn cordblood
Article: Why You Should Avoid Plastics and a Primer on BPA
Website: Essential Oils
Product: Dr Bronners Castille Soap
Product: Baking Soda
Product: White Vinegar for Cleaning
Recipe: How to Make a Non-Toxic All-Purpose Cleaner
Recipe: An Easy, Fast and Non-Toxic Way to Clean Stainless Steel
Recipe: How to Make Your Own Natural Streak-Free Glass Cleaner
Article: All about the MTHFR mutation
Website: Think Dirty App
Product: Desert Essence Face Wash
Product: Tallow Balm Moisturizer
Article: The Nitty Gritty on the Oil Cleansing Method
Product: Jojoba Oil
Product: Tamanu Oil
Recipe: How To Make Your Own Non-Toxic Deodorant
Product: Bella Organics Deodorant
Product: Primal Pit Paste
Product: Schmidt's Deodorant
Product: Nutiva Coconut Oil
Product: Bentonite Clay
Product: Activated Charcoal
Article: Benefits of Oil Pulling
Website: Ora Wellness Dental Care
Recipe: Homemade Remineralizing Toothpaste
Product: Earthpaste Toothpaste
CHALLENGE: Change one thing in your diet or lifestyle today, and share it on social media with the hashtag #changeonething
Enter your email in the box below to join our community (it's FREE!) and you'll be the first to hear about new episodes, discounts, VIP access and more.
Don't forget to join the discussion on our Facebook page
Keep up with our food and travel photos on Instagram
Have a Question? Submit a question for us to answer on the podcast: click here
Check out our other podcast episodes: click here
Like this episode? Thanks! Please share it with your friends using the social media buttons at the top and bottom of the post, or directly from the "share" feature on the podcast player, above. You can also subscribe to the podcast on iTunes right from the player above, too. We'd also appreciate a (hopefully five star!) review on iTunes- it helps us spread the message about real food and natural health to more people!
Disclaimer: Please remember that all information contained in our podcast, posts, on our website and in any and all materials is for information purposes only and not a substitute for medical advice. This information has not evaluated by the FDA and is not intended to prevent, diagnose, treat or cure any condition. Our posts and website may contain affiliate links. If you purchase something by clicking on the link, we may receive a small commission from the retailer, at no cost to you whatsoever. Real Food Whole Health is a participant in the Amazon Services LLC Associates Program, an affiliate advertising program designed to provide a means for sites to earn advertising fees by advertising and linking to Amazon.com. This helps support our blogging activities and keeps us able to provide free content for you. Thanks for your support!