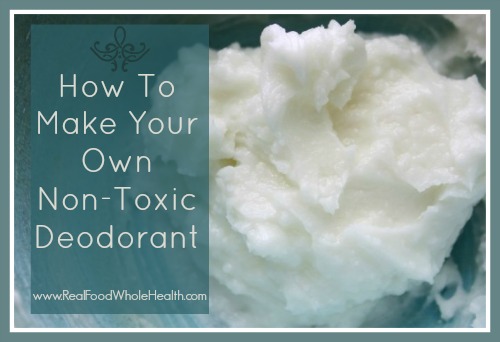 I've tried a lot of natural deodorants. I wanted something that would be fresh, not overpowering or scented heavily, and that would be free of toxins. I've tried store brands (most never worked), crystal stones and various recipes for homemade deodorant. It's this combination that really seemed to work for me (and many others who have tried it since).
Simply mix an equal amount of baking soda and organic, non-GMO cornstarch or arrowroot powder together. Add enough coconut oil to make it a paste, then add a couple drops of essential oil if you choose. I use Grapefruit essential oil just for a little extra anti-bacterial and preservative action, but it's not necessary. I've been making this for years, and just recently added the essential oils. Lavender and rosemary are also nice scents- if you add more than a drop or two, you might make the deodorant scented- which is fine (maybe not for hubby!) but I prefer its natural coconut aroma (basically unscented). Make sure it's essential oil and not a fragrance oil or synthetic substance- that would negate the natural benefit we're seeking here! 🙂
Keep in mind that coconut oil will melt at temperatures above about 78 degrees F, so if your house runs hot, you might have to keep an eye on this, and stick it in the fridge during the day, take it out the night before to use in the morning as it will be really hard and difficult to use straight from the fridge (coconut oil hardens in the fridge). All that said, I've traveled with this and had it in different houses over the past 3-4 years I've made it, and it's never melted in my bathroom cabinet.
Usually I use a Pyrex glass container with lid, but you could scrape it into an old deodorant container to have a stick deodorant. I've tried this and it seems to get used faster, so I prefer to just scoop out a little bit (you only need a TEENY bit) and rub it on. My husband and I have used it for years to avoid the toxins, heavy metals and endocrine disruptors in traditional deodorants and it's always worked great for us- even in the middle of Texas summers.
I did have a client tell me that she recommends using caution when applying this before wearing something delicate, like silk or satin, and making sure that it's absorbed before dressing to avoid the stain potential. I have never had this issue, but I've probably not worn satin or silk lately, either 🙂
Enjoy!