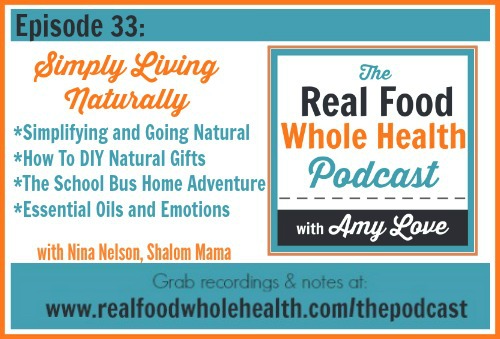 In this episode, I am visiting with Nina Nelson of Shalom Mama and we're talking about living simply and naturally and saving money with DIY projects and gifts, living and giving intentionally, her adventures living in a converted school bus (with 4 kiddos!), minimalism and decluttering, herbal remedies and essential oils, balancing emotions with essential oils, how we live with essential oils in our every day lives, our shared love for mason jars and so much more!
[player]
From this episode:
Nina's website, Shalom Mama
Essential Oils
Outdoor Clothesline
Chemicals in Laundry Detergents
Homemade Laundry Detergent
Buy Natural Detergent
Natural Gift Ideas– free ebook
Follow our #realfoodroadtrip on Instagram
Nina's "skoolie"– converted school bus
I'm Fine, Thanks
AirBnB
Cuppow Standard Drinking Lid
Cuppow Straw Drinking Lid
Mason Jar Pour Spout
Wide Mouth Mason Jars- quart or pint
Essential Oils
How To Make Your Own Remineralizing Toothpaste
Dr Bronners Castille Soap
How To Make Your Own Non-Toxic Deodorant
How to Make a Non-Toxic All-Purpose Cleaner
Common Ground Fair– Unity, Maine
MOFGA
Bach Rescue Remedy
Apis mel homeopathic remedy (stings, bites)
RFWH27: Get Free From Cluttered Chaos, Nourishing Minimalism, How Clutter Affects Your Health and Wellbeing and the Journey from Chaos to Calm with Six Kids with Guest, Rachel Jones
The Zero Waste Home by Bea Johnson
Herb Posts on Shalom Mama
Homemade Herbal Healing Balm
Real Food Recipes and DIY on our Pinterest boards
French Toast Latte
Enter your email in the box below to join our community (it's FREE!) and you'll be the first to hear about new episodes, discounts, VIP access and more.
Don't forget to join the discussion on our Facebook page
Keep up with our food and travel photos on Instagram
Have a Question? Submit a question for us to answer on the podcast: click here
Check out our other podcast episodes: click here
Like this episode? Thanks! Please share it with your friends using the social media buttons at the top and bottom of the post, or directly from the "share" feature on the podcast player, above. You can also subscribe to the podcast on iTunes right from the player above, too. We'd also appreciate a (hopefully five star!) review on iTunes- it helps us spread the message about real food and natural health to more people!
Disclaimer: Please remember that all information contained in our podcast, posts, on our website and in any and all materials is for information purposes only and not a substitute for medical advice. This information has not evaluated by the FDA and is not intended to prevent, diagnose, treat or cure any condition. Our posts and website may contain affiliate links. If you purchase something by clicking on the link, we may receive a small commission from the retailer, at no cost to you whatsoever. This helps support our blogging activities and keeps us able to provide free content for you. Thanks for your support!