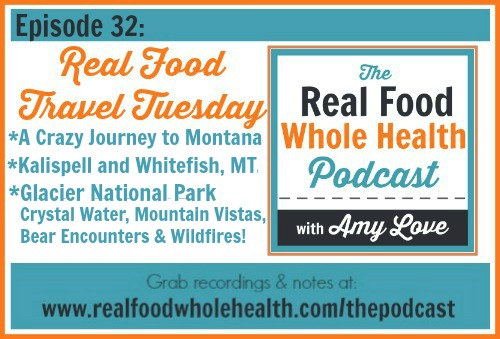 In this Travel Tuesdays episode, join us as we travel from coastal Washington to Spokane (and have a slightly scary night!), drive through Coeur d'Alene, Idaho and enter into beautiful Montana, discover huckleberries, enjoy Flathead Lake and finally land in Kalispell. We explore real food spots in Whitefish, MT and finally head to stunning Glacier National Park for breathtaking views, numerous bear encounters (with some close calls!), crystal clear blue water, mountain vistas and raging wildfires!
[player]
From this episode:
Sightseeing: Spokane, WA
Sightseeing: Coeur d'Alene, Idaho
Sightseeing: St. Regis, MT
Recipe: Huckleberry milkshake
Sightseeing: Flathead Lake
RV Park: Glacier Pines RV Park  Kalispell, MT
Restaurant: Pescado Blanco, Whitefish MT
Recipe: Homemade Mole Sauce
Sightseeing: Whitefish Lake, Whitefish MT
Website: Our #realfoodroadtrip photos on Instagram
Sightseeing: Glacier National Park, Montana
Sightseeing: Going-to-the-Sun Road, Glacier National Park
Sightseeing: Many Glacier Hotel, Ptarmigan Dining Room, Glacier National Park
Sightseeing: Weeping Wall and Logan's Pass Overlooks, Glacier National Park
Restaurant: La Cocina Feliz (at Quickee's Deli) Whitefish MT
Salon/Spa: Reecia's Aveda Salon, Whitefish MT
Enter your email in the box below to join our community (it's FREE!) and you'll be the first to hear about new episodes, discounts, VIP access and more.
Don't forget to join the discussion on our Facebook page
Keep up with our food and travel photos on Instagram
Have a Question? Submit a question for us to answer on the podcast: click here
Check out our other podcast episodes: click here
Like this episode? Thanks! Please share it with your friends using the social media buttons at the top and bottom of the post, or directly from the "share" feature on the podcast player, above. You can also subscribe to the podcast on iTunes right from the player above, too. We'd also appreciate a (hopefully five star!) review on iTunes- it helps us spread the message about real food and natural health to more people!
Disclaimer: Please remember that all information contained in our podcast, posts, on our website and in any and all materials is for information purposes only and not a substitute for medical advice. This information has not evaluated by the FDA and is not intended to prevent, diagnose, treat or cure any condition. Our posts and website may contain affiliate links. If you purchase something by clicking on the link, we may receive a small commission from the retailer, at no cost to you whatsoever. This helps support our blogging activities and keeps us able to provide free content for you. Thanks for your support!