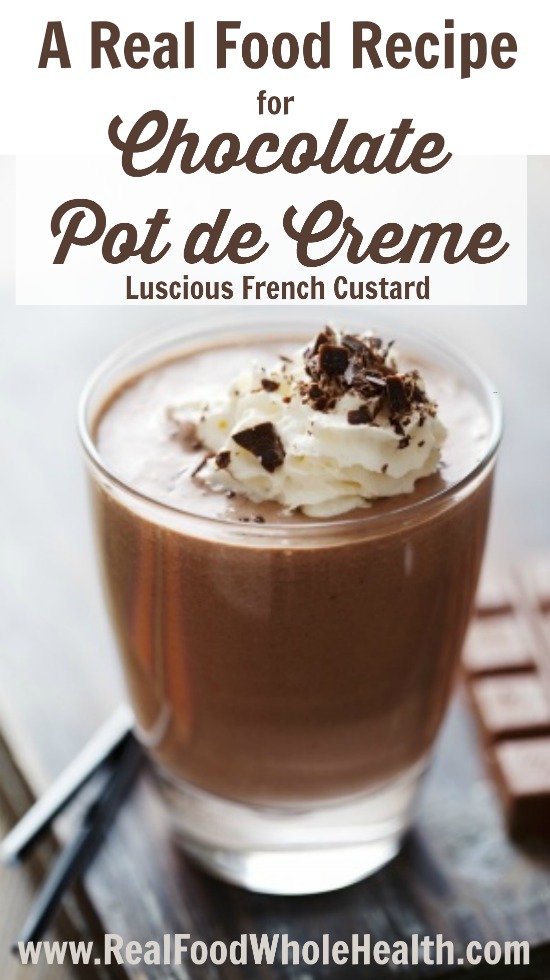 This simple, but decadent dessert is quite a treat. A pot de creme is a French custard that dates back to the 17th century.
We've reduced the sugar and included organic, real food ingredients for a treat you can feel good about indulging in on occasion.
See the notes for optional additions to switch it up a bit.
Chocolate Pots de Creme
by Amy Love, Real Food Whole Health
Ingredients:
1 1/4 cups organic heavy cream
1/4 cup organic cane sugar
½ cup (4 oz) dark chocolate, chopped
1 TBL unsweetened cocoa powder
1 tsp pure vanilla extract
3 large organic egg yolks
1/8 tsp unrefined sea salt
Directions:
Preheat oven to 300 F.
In a small saucepan, whisk together cream, sugar and chocolate. Bring to a simmer, whisking frequently, and then remove from heat. Let cool slightly.
In a separate small glass bowl, combine cocoa powder, vanilla, egg yolks and sea salt.
While constantly whisking chocolate mixture, slowly add egg mixture to chocolate cream mixture.
Pour through a fine mesh sieve/strainer into a glass measuring cup, ideally with a spout.
In a shallow roasting pan, arrange four ramekins (about ½ cup each) evenly. Pour chocolate custard into the ramekins.
Pour hot, but not boiling, water into the roasting pan so it reaches halfway up the sides of outside of ramekins. Be careful not to get water into your chocolate custard.
Bake 30-35 minutes, or until the center of the custard is almost set.
Remove ramekins (carefully!) from the hot water bath and cool a few minutes before covering with plastic wrap and refrigerating.
Refrigerate at least 4 hours, but preferably overnight before serving. Serve as is, or top with homemade whipped cream and chocolate shavings for an extra touch.
Notes:
You can add 1-2 TBL of Amaretto, Frangelico (hazelnut liqueur), pure almond extract, or brandy for richer flavor. If using, add to egg yolk mixture before adding to chocolate cream mixture.
Want to make ahead? These can be made and stored in the fridge up to 2 days.