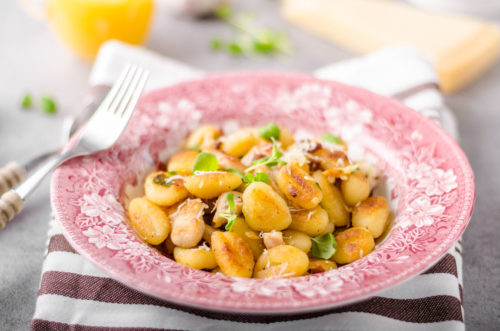 These pillowy soft gnocchi are my absolute favorite, and I've revised them to be gluten free!
Unlike potato gnocchi, ricotta gnocchi is light and fluffy and oh so decadent but incredibly simple to make.
See the notes for alternative serving suggestions, as these little pasta nuggets are great with a variety of sauces and preparations (fried ricotta gnocchi, anyone?!)
Ricotta Gnocchi
by Amy Love, Real Food Whole Health
Ingredients:
2 cups (homemade or store bought) whole milk ricotta, well-drained
1 organic egg plus 1 egg yolk
1/2 cup finely grated parmesan or pecorino cheese
1/2 tsp. unrefined sea salt
1 TBL dried Italian herbs (oregano, basil, thyme)
3/4+ cup gluten-free flour blend
Directions:
You want your ricotta very well-drained and pretty dry. If using store bought instead of homemade, or if your homemade ricotta is still quite wet, drain the ricotta in a fine mesh sieve set over a large glass bowl. You want a really lovely, full fat ricotta to make the best pasta.
Once drained, combine the ricotta with the egg and egg yolk and mix well. Add in the remaining ingredients and stir to combine.
Checking the consistency by rolling a small bit between your fingers. It should be slightly sticky, but not cling to your hand. If it's too sticky, simply add a bit more gluten free flour (1 TBL or so at a time) until consistency is correct.
Spread a piece of parchment paper out on the countertop and sprinkle lightly with your flour. Grab a small bit of dough, roll into a ball and then shape into a long rope like log, about ½ inch thick.
Using a knife, cut pieces off the rope, about 1 inch long and toss in a bit of flour to prevent them sticking together. Repeat with rest of dough.
In a large pot or Dutch oven, bring water to a boil and salt generously.
Once boiling, add in a couple of handfuls of gnocchi and stir with a slotted spoon. Cook 4-5 minutes before removing gnocchi with a slotted spoon to a kitchen towel lined plate or colander to drain slightly.
Finish cooking remaining gnocchi and then serve immediately with marinara sauce, pesto, brown butter with sage leaves, or fry gnocchi in butter or ghee until crispy (about 2-3 minutes per side) and serve with marinara dipping sauce.