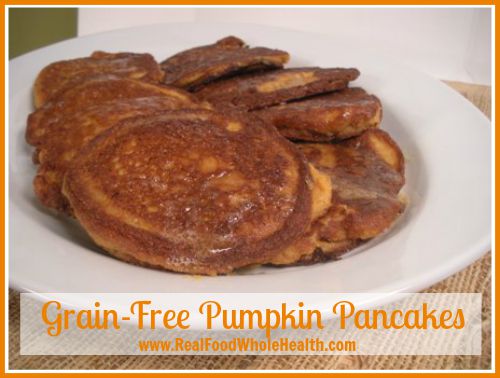 These pancakes are so easy to make and really warm up a cold morning!
Grain-Free Pumpkin Pancakes
by Amy Love, Real Food Whole Health
1 cup pumpkin puree, homemade or packaged
6 organic, pasture-raised eggs
½ cup arrowroot powder
¼ cup coconut flour
¼ cup pure maple syrup
½ tsp unrefined sea salt
½ tsp aluminum free baking powder
1 tsp pure vanilla extract
1 tsp real ground cinnamon
½ tsp fresh grated nutmeg
Coconut oil, for cooking
Place all ingredients in a blender and blend until mixed well and batter is smooth. In a large skillet, melt coconut oil over medium high heat. Pour batter (about ¼ cup at a time) into skillet and cook until bubbles appear and edges are slightly set. Flip and cook until golden and cooked through.
Serve as is, or with organic, grassfed butter and a swirl of maple syrup.
Notes:
Can use pumpkin pie spice instead of cinnamon and nutmeg.
Adjust spice, salt and syrup to your liking.
Arrowroot powder may also be called arrowroot starch or arrowroot flour.
Tapioca flour (or starch) may be substituted for the arrowroot.