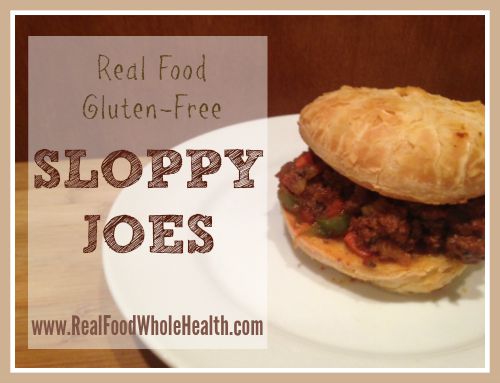 There's just something nostalgic about sloppy joes.
Hello, elementary school- I'm lookin' at you.
Matt's family actually made sloppy joes every year on Halloween before heading out to trick or treat and it's a fun memory for him.
While these aren't something we make very often around here, when you want a sloppy joe, there really isn't any substitute.
So, we've upgraded this recipe from school cafeteria days (and certainly way better anything you'd buy in a can!) to include real food, from scratch ingredients that are also safe for those who are gluten free.
Enjoy!
Real Food Sloppy Joes (Gluten Free)
by Amy Love, Real Food Whole Health
Serves 4
Ingredients:
1 TBL grassfed butter
½ organic green bell pepper, diced
½ organic onion, diced
1 organic carrot, diced finely
2 ribs organic celery, thinly sliced
2-3 garlic cloves, finely chopped
1lb grassfed ground beef
½ tsp unrefined sea salt, or to taste
½ TBL chili powder
1 tsp mustard powder
½ cup organic ketchup
½ cup homemade broth (or this will work if you need to buy)
1 tsp pure honey
2 TBL apple cider vinegar
1 TBL gluten free soy sauce (tamari) or coconut aminos
For serving:
Gluten free, grain free or other buns, toasted
Directions:
In a large stainless steel skillet, melt butter. Add bell pepper, onion, carrot, celery and garlic and saute 4-5 minutes until onions are translucent and carrots are softened. Remove veggies from pan and set aside for later.
Add ground beef to pan and brown. Season with salt, chili powder, mustard powder.
Add ketchup, broth, honey, apple cider vinegar and soy sauce.
Stir to combine, add the veggies back in, and allow all to simmer until desired consistency is reached.
Serve on a toasted bun, with plenty of napkins alongside!
Notes:
We're serving on Against the Grain grain-free rolls.
Not down with rolls? Serve the mixture in lettuce leaves for a wrap!